The Tax Reform Bill Opens the Arctic National Wildlife Refuge for Oil and Gas Drilling, Putting Alaskan Natives at Further Risk of Climate Disaster and Harms The Natural Resources They Depend On
Washington D.C. -Today the Republican House and Senate passed the Republican Tax Reform Bill, a bill that has seen unprecedented disapproval by American citizens. According to The Hill, "Public polling on the GOP's tax overhaul indicates support hovering at less than 30 percent, which is even lower than the favorability toward ObamaCare when Democrats passed it in 2010". In addition, every democrat from both chambers opposed the bill.
The primary goal of the bill is to cut taxes, but the bill will also repeal the Affordable Care Act's individual mandate and will open the Arctic National Wildlife Refuge (ANWR) in Northern Alaska for oil and gas drilling.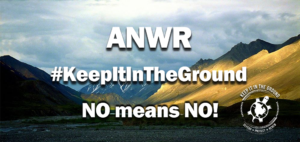 Bemidji, MN – Before dawn on Saturday morning, December 2nd, the U.S. Senate passed a monumental tax overhaul with no Democratic support that overwhelmingly benefits corporations and the top 1%. The bill, written by a small panel of Republicans, behind closed doors was rushed to a vote, bypassing regular order that would have included hearings and committee meetings with both parties participating. In fact, the bill has ignited an outcry from Democrats, calling this process of the bill, "Washington at it's worst".
While the focus of criticism is centered on how the bill will not benefit a majority of taxpayers in the long term, there are immediate and potentially dire impacts within this bill for Indigenous Peoples that is being overlooked in the media. Two provisions inserted by Sen. Lisa Murkowski (R-Alaska) direct Sec. Zinke to approve at least two lease sales for drilling. Each would consist of no fewer than 400,000 acres and 2,000 acres (of the 800,000 total acres), known as 1002 Area, set aside for wells and support facilities within ANWR's 1.5 million-acre coastal plain.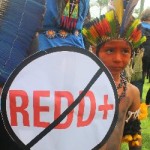 New York –A false solution to climate change known as REDD+ causes conflict and is a new form of colonialism and must be immediately canceled, Indigenous Peoples denounced at the United Nations. REDD+ (Reducing Emissions from Deforestation and Degradation) is a carbon offset mechanism that uses Nature as a sponge for greenhouse gas pollution instead of cutting emissions at source. "The sacred air we breathe is being sold to the highest bidder. We implore the UN to have compassion for humanity and Mother Earth by immediately canceling carbon trading, carbon offsets, and REDD+ projects in or near Indigenous Peoples' lands and territories" said Calfin Lafkenche of the Mapuche Nation in Chile.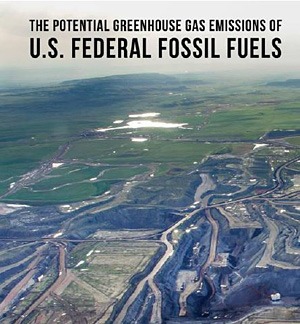 WASHINGTON— Ending new fossil fuel leasing on lands and offshore areas controlled by the U.S. government would keep up to 450 billion tons of greenhouse gases from polluting the atmosphere, according to a first-of-its-kind analysis by EcoShift on behalf of the Center for Biological Diversity and Friends of the Earth released today.
The analysis, The Potential Greenhouse Gas Emissions of U.S. Federal Fossil Fuels, models the life-cycle greenhouse gas pollution that would result from developing federally-controlled coal, oil shale, natural gas, crude oil and tar sands on public lands and offshore ocean areas under government control.
Allowing these publicly owned fossil fuels to be developed would cripple the U.S.' ability to meet its obligations to avert the worst effects of the global climate crisis, the report finds.
On Monday US Interior Secretary Ryan Zinke visited Bears Ears Monument in Utah to review the use of the Antiquities Act on Bears Ears. During the site visit Zinke aggressively confronted a supporter of the "Protect Bear Ears" movement after she asked him whether the secretary plans to meet with tribal leaders during his visit to Utah.
The Indigenous Coalition at Standing Rock is calling for an international day of emergency actions to disrupt business as usual and unleash a global intersectional resistance to fossil fuels and fascism. Connect with other struggles. Think long-term movement building. We are in this for the long haul.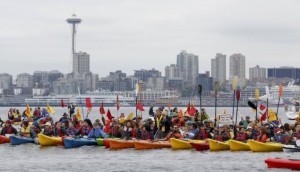 September 29, 2015 – Royal Dutch Shell has announced its plans to abandon its attempts to drill for oil off Alaska's northwest coast, citing disappointing results from exploratory wells. Native American leaders who have been campaigning against the Shell project and other extreme energy developments share their thoughts on the announcement made yesterday: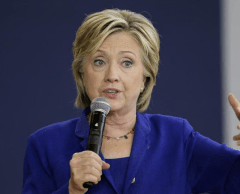 At a town hall meeting in Iowa yesterday afternoon, Hillary Clinton finally gave her position on the Keystone XL pipeline, telling the crowd, "I oppose it. I oppose it because I don't think it's in the best interest of what we need to do to combat climate change."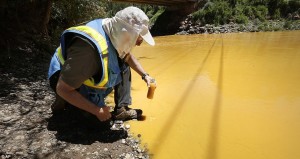 "DENVER (AP) — A million-gallon mine waste spill that sent a plume of orange-ish muck down a river in southwest Colorado on Thursday was caused by a federal mine cleanup crew.
The U.S. Environmental Protection Agency said that a cleanup team was working with heavy equipment Wednesday to secure an entrance to the Gold King Mine. Workers instead released an estimated 1 million gallons of mine waste into Cement Creek.
"The project was intended to pump and treat the water and reduce metals pollution flowing out of the mine," agency spokesman Rich Mylott said in a statement.
The creek runs into the Animas River, which then flows into the San Juan River in New Mexico and joins the Colorado River in Utah."
On August 8, 2015 Ft. Berthold Protectors of Water and Earth Rights along with Indigenous Environmental Network hosted our first annual 2015 Water Blessing and Healing Walk. We prayed for all the sacred waters of the Earth.
FOR IMMEDIATE RELEASE First Nation concerned Nexen oil pipeline spill highlights dangers of poorly regulated industry and violations of Treaty July 17, 2015 – Fort McMurray, AB – On Wednesday of this week Fort McMurray's oil sands hit a new milestone, it is now home...
Photos and media interviews available Suzanne Dhaliwal +447772694327 @notarsands suzanne@no-tar-sands.org The delegation will attend the Shell Annual General Meeting at the Hague on Tuesday, May 19th, 9:00am GMT at the Circustheater, Circusstraat 4, 2586 CW The Hague....
JOINT PRESS RELEASE FROM CLEAN WATER ALLIANCE, OWE AKU/BRING BACK THE WAY, IT'S ALL ABOUT THE WATER, AND DAKOTA RURAL ACTION April 30, 2015 Contact: Jeffrey Parsons, Attorney 303-823-5738 Lilias Jarding, Ph.D., 605-787-2872 (Clean Water Alliance) Debra White Plume,...
Indigenous Environmental Network, MADRE, CICA (Consejo Indígena de Central America), CAOI, ECUANARI, Chief Oren Lyons-Haudenosaunee, Indigenous Information Network, Indigenous Peoples Council on Biocolonialism, Consejo Indio Exterior, Comisión Júridica de los Pueblos,...
This morning youth of the Oceti Sakowin released and delivered a video to President Obama asking him to uphold his commitment to Indigenous youth and to reject Keystone XL. The video, supported by Indigenous Environmental Network, Energy Action Coalition and NO KXL Dakota will be delivered to top tribal representatives in the White House administration.
Corporate interests have been gobbling up indigenous land and rights since contact more than 500 years ago. Today, American Indians are still fighting to maintain their stewardship and the integrity of the land. From the uranium invasion of the Grand Canyon, to the...
By Jenny Kane jkane@daily-times.com FARMINGTON — Companies leasing the Navajo Generating Station are volunteering to pay an increase of more than $40 million dollars annually to the Navajo Nation.Even though the companies do not have to pay more according to the...
This song was written as a challenge to myself to do something about climate change. I hope it will inspire you to join us, the Citizens Climate Lobby volunteers. Help us pass national legislation that places a fee on the carbon in fossil fuels (a fee equal to the...