Oil Change International in collaboration with:
Drilling-Towards-Disaster-Web-v2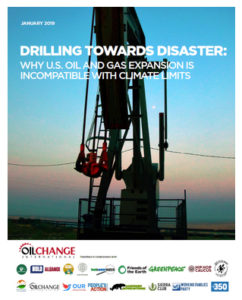 Oil Change International in collaboration with: 350.org, Amazon Watch, BOLD Alliance, Center for Biological Diversity, Earthworks, Food & Water Watch, Friends of the Earth U.S., Greenpeace USA, Hip Hop Caucus, Indigenous Environmental Network, Labor Network for Sustainability, Oil Change USA, Our Revolution, People's Action, Rainforest Action Network, Sierra Club, Working Families Party
A new study released by Oil Change International, in partnership with 14 organizations from around the world, scientifically grounds the growing movement to keep carbon in the ground by revealing the need to stop all new fossil fuel infrastructure and industry expansion. It focuses on the potential carbon emissions from developed reserves – where the wells are already drilled, the pits dug, and the pipelines, processing facilities, railways, and export terminals constructed.
January 2019
Download the full report.
Download selected figures from the report.
This U.S. report is part of a series of publications in the Oil Change International Sky's Limit series, based on our foundational global report released in 2016: The Sky's Limit: Why the Paris Climate Goals Require a Managed Decline of Fossil Fuel Production.