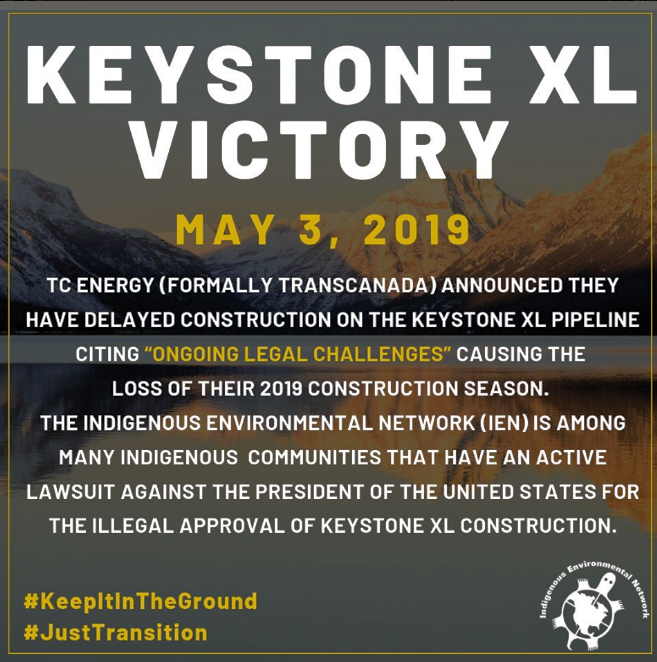 TC Energy (Formally TransCanada) announced at a shareholders meeting on May 3, 2019, that they will be unable to begin construction on the Keystone XL Pipeline in 2019. The company cited "ongoing legal challenges" as athe reason for losing the 2019 construction season.
The Indigenous Environmental Network (IEN) is one of the organizations that have an active lawsuit against the President of the United States for an illegal approval of the Keystone XL construction. IEN along with The North Coast Rivers Alliance (NCRA) had won a previous lawsuit for the federal approval of the tar sands project. On April 23, 2019, the Rosebud Sioux Tribe and Fort Belknap Indian Nations, represented by The Native American Rights Fund, filed an amended complaint against TransCanada and President Trump over the handling of the Keystone XL Pipeline citing the company did not follow tribal law among other concerns. Of Further note, TC Energy has stated that although they will not be doing construction in 2019, they will be pursuing pre-construction activities along the route.
"We are thrilled that TC Energy, formerly TransCanada has been stalled once again. Their shareholders decided the right course to withhold moving forward during this year's construction period. For our homelands across the Oceti Sakowin or Great Sioux Nation and indeed the many tribal lands along the proposed KXL route, this is great news. We will continue to raise awareness of the numerous problems this project presents; the threat to sacred sites, to our waters, homelands, and the many people along the route. We will defeat this zombie pipeline as we have done in the past. Despite threats of pre-construction, our spirit is strong and we stand ready to continue fighting for the next Seven Generations." Joye Braun, IEN Frontline Community Organizer, Cheyenne River Sioux Nation said.