For Immediate Release
January 19th, 2019
Press contact:
Dallas Goldtooth, dallas@ienearth.org
Indigenous Environmental Network responds: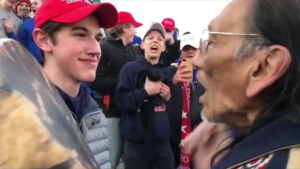 Bemidji, MN – The Indigenous Environmental Network unequivocally condemns the actions of Covington Catholic High School students who harassed Umoⁿhoⁿ (Omaha) veteran Nathan Phillips following the Indigenous Peoples March in Washington DC.
Nathan Phillips is a Vietnam-era veteran, a Water Protector and a grassroots voice that has worked with the Indigenous Environmental Network for many years standing against the Keystone XL and Dakota Access Pipelines. He stood on the frontlines then and continues to stand up against hatred and ignorance now, preaching love, tolerance, and fortitude. In response to the disgusting behavior of the high school students, Mr. Phillip chose to demonstrate an incredible act of prayerful resistance and we commend him for this.
We can all learn from Mr. Phillip's bravery to stand like the buffalo in the face of the storm of racism and hatred. He teaches us that we must continue to stand like a rock, unmoving, and resilient, ever facing our enemies.
We call upon the Covington Catholic High School and its associated institutions to apologize for its students' actions, to both Nathan Phillips and the organizers of the Indigenous Peoples March. We demand appropriate action be taken to hold the individual students involved in this altercation accountable and expect nothing less than a sincere recognition of the harm and trauma they created.
The Indigenous Peoples March seeks to elevate the issues affecting our people across turtle island, including environmental justice and murdered and missing Indigenous women. For these struggles, we need to stand united. For every action of hate, we must meet it with actions of love. We must show the world there is another way. For the benefit of Mother Earth and all generations of life, we must be radical in our resistance and equally radical in our love.
To read more about the altercation: https://newsmaven.io/indiancountrytoday/news/outrage-as-non-native-youth-wearing-maga-hats-taunt-and-disrespect-native-elder-jy7UVwdg8kK2uvT0L-JOig/
Here is a video of the altercation: