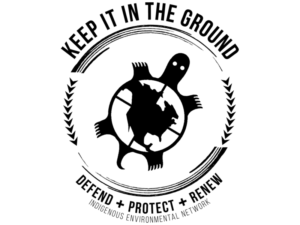 Lincoln, NE – Today, November 20, 2017, the Nebraska Public Service Commission (NPSC) announced their approval of the permit for the Keystone XL (KXL) Pipeline to cross through the state. Nebraska was one of the last strongholds in the fight to prevent KXL from being completed. This announcement comes just days after the KXL pipeline leaked 210,000 gallons of oil in South Dakota and after the United Nations Framework Convention on Climate Change COP23, where Indigenous Peoples from across the world have spent two weeks advocating to stop new oil development and to keep fossil fuels in the ground. In addition, today, November 20th, marks the anniversary of the night the US National Guard and North Dakota Law Enforcement used water cannons on peaceful protesters at Standing Rock in subzero temperatures to protect the interests of Energy Transfer Partners.
Even with this decision, TransCanada has an uphill battle moving forward. The NPSC rejected TransCanada's preferred route, so TransCanada will have to go through a new planning process for new pumping stations, acquire new easements from landowners, and there's an opportunity for pipeline fighters to demand a new environmental impact statement for the new route segments.
Similar to the Dakota Access Pipeline, this portion of KXL will violate treaty rights of the Cheyenne River Sioux Tribe as it will cross through 500 miles of treaty territories. This decision has also been made without consultation or consent by the tribe.
The following are statements from Indigenous leaders and organizations:
"We are pushing Mother Earth to the limit everyday and the KXL is just another oil and gas project that is locking us into a future we can't afford. Indigenous communities, like my own, are fighting continued approvals of Tar Sands projects that contaminate our water, destroy our eco-systems and negate our rights everyday. The KXL paves the ways for the approval of the single largest proposed tar sands mine, the Teck Frontier Mine, located 17km from a settlement of my community. We must call for an end to dirty fossil fuels and all associated infrastructure, let's work together to stop the KXL pipeline and tar sand expansion at the source." — Eriel Deranger, Executive Director, Indigenous Climate Action
"Our commitment has always been to protect the sacred; from the source at the Tar Sands to the ports on the coasts, we stand by this commitment and continue to fight to keep fossil fuels in the ground. Today, with our allies we launch NoKXLpromise.org to mobilize the people to stop this dangerous and unnecessary project. As we continue this fight against KXL and Transcanada we will assert our rights as Indigenous Peoples and we encourage and call on Tribes and Indigenous Peoples across the nation to rise up to protect our way of life, our futures and to defend Mother Earth." — Dallas Goldtooth, Keep It In The Ground Campaign Organizer, Indigenous Environmental Network
"To hear that Nebraska is moving forward with this black snake, while a massive spill is being cleaned at this very moment, is heartbreaking. We have not yet received information on the toxic chemicals that were released in this most recent spill, nor do we know where the contaminated soil is going to go. Spill like this have huge social impacts and our communities can not afford this to happen. When it comes to KXL, it is a matter of when, not if the pipeline leaks. So when that spill happens and oil is leaked into the Ogallala aquifer, what are we going to do, who's going to take responsibility for that? No state public service commission has listened to the out cry of the Indigenous nations and the warning we are giving. We will continue to stand, we will to continue to resist, this is not defeat, this is a challenge to fight harder." — Joye Braun, Cheyenne River Sioux, Indigenous Environmental Network
"We, the Oyate of Wiconi un tipi have set up camp in Kul Wicasa also known as the Lower Brule Sioux Nation in response to TransCanada's attempt to affect our living and way of life. Our camp is close to the proposed transmission lines for the KXL pumping stations. We are here to choose how we live. We are here to continue to restore balance and save mother earth from any atrocious acts against her. Our charge is to be good relatives and stand in unity with all creation for the betterment of the generations to come." — Lewis Grassrope, Wiconi Un Tipi Headsmen, Kul Wicasa