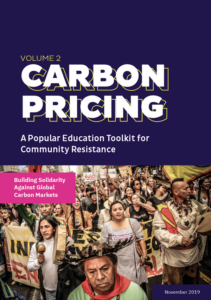 Bemidji, M.N.  (November 18, 2019): Today the Indigenous Environmental Network and Climate Justice Alliance launched their Carbon Pricing Toolkit Volume Two. The launch comes just ahead of the groups attending the UNFCCC COP 25 in Madrid, Spain. The educational guide and toolkit is designed to explain the flaws in Article 6 of the Paris Agreement ahead of its approval at UNFCCC COP 25 next month.
"Indigenous peoples across Mother Earth are rising up against extractive industries that are creating climate chaos in our homelands," said Indigenous Environmental Network Executive Director Tom Goldtooth. "We will not sit quietly while we watch our ecosystems destroyed. Article 6 is the status quo and we demand a just transition that keeps dirty energy sources in the ground. "
Carbon Pricing: Popular Education Toolkit for Community Resistance, Volume 2 is for every group and community organizing for climate justice, resisting the false solutions of carbon pricing. This project began side-by-side with the publication, Carbon Pricing: A Critical Perspective for Community Resistance, Volume 1, which was published in 2017 by IEN and CJA. The toolkit includes short readings, workshop activities, workshop plans, and responses from Indigenous leaders directly impacted by carbon pricing projects.
We all have to come together to support frontline communities and their local living economies if we are to survive and leave a dignified future for our children. No amount of money or profit-driven false solutions such as carbon pricing can buy that back once it is destroyed." said Climate Justice Alliance Executive Director Angela Adrar.
The accessible toolkit provides a devastating critique of both the theory and practice of carbon pricing, which lies at the heart of global climate policy. The objective of the training initiative is to continually educate ourselves on climate justice and climate policy. Because the majority of climate policies continue to include false solutions, the key purpose of this toolkit is to analyze and interrogate market-based carbon pricing initiatives in all of their forms in order to organize for a just transition.
"After decades of carbon trading failure, dispossession and human rights abuses, the continuation of market-based neoliberal policies for climate change must end now. Sharing stories through this popular education initiative is a powerful way to build international solidarity towards climate justice and action," said IEN's Climate Change and Forest Policy Advisor and author Tamra Gilbertson.
The toolkit can be viewed and downloaded at CO2colonialism.org