In line with the sovereign status of the Sicangu Lakota Oyate, the Rosebud Sioux Tribal Utility Commission will be holding a public hearing on the Transcanada (now known as TC Energy) Keystone XL Pipeline.  The hearing will be conducted over two days, with refreshments provided.
Read the Rosebud Sioux Tribal Utility Commission public hearing notice here.
---
HEARING INFORMATION
Date: Tuesday and Wednesday, May 28-29, 2019
Location: St. Francis Indian School gym, St. Francis, S.D.
Time: 10am – 3pm, each day
---
The purpose of this hearing is for the public to present any concerns or complaints concerning the proposed Keystone XL Pipeline. The hearing is open to all members of the public to provide testimony, both Native and non-Native.
The Rosebud Sioux Tribe, along with other tribal nations, recently filed a lawsuit against the Trump Administration for numerous violations of the law in the Keystone XL pipeline permitting process. The Tribes are asking the court to rescind the illegal issuance of the Keystone XL pipeline presidential permit.
You can support the Rosebud Sioux Tribe and the Native American Rights Fund in their lawsuit against the Trump administration by clicking here.
For more information about the public hearing, contact the RST Utility Commission Office at (605) 747-3194 or Email tuc@rst-nsn.gov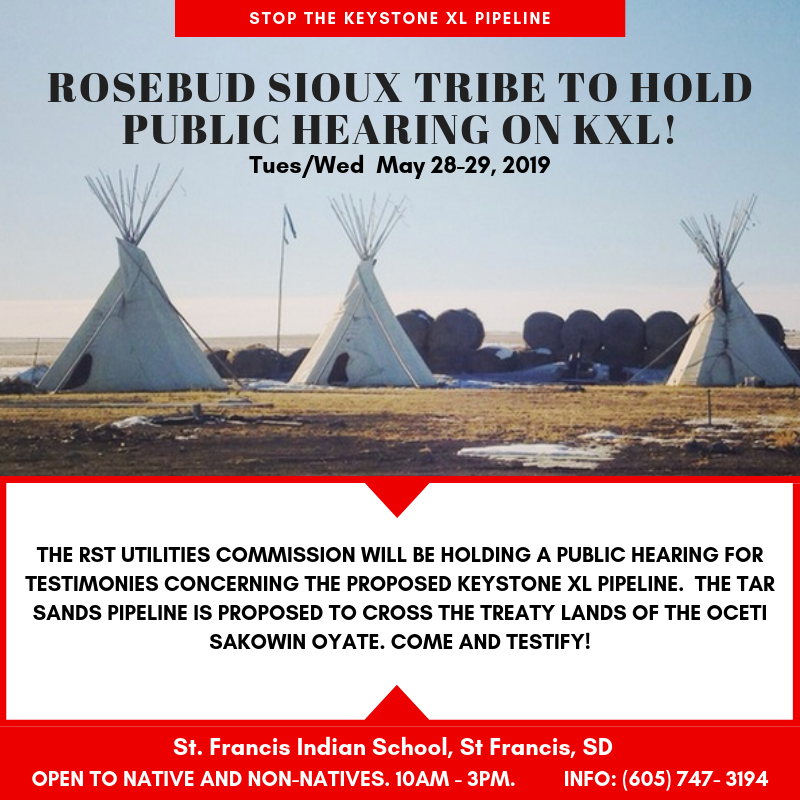 ---