CounterSpin interview with Kandi Mossett on No DAPL update
Posted by Janine Jackson
Janine Jackson interviewed Kandi Mossett about the continuing resistance to the Dakota Access Pipeline for the August 11, 2017, episode of CounterSpin. This is a lightly edited transcript. Click here to LISTEN to INTERVIEW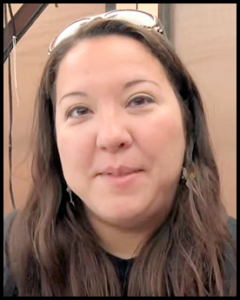 Janine Jackson: Listeners may recall photographs of Native American people on horses facing masses of law enforcement in riot gear and tanks near Standing Rock Sioux Reservation in North Dakota. The powerful images seemed to symbolize the fight of indigenous communities and others against a pipeline carrying fracked oil from the Bakken Fields some thousand miles into Illinois, crossing the Missouri River that serves as a life source for the Standing Rock and others in the region.
But fights have many fronts, some less visible than others. And as activists know, struggles don't end when media lose interest. The No DAPL fight may not be in your news feed anymore. That doesn't mean it's over; far from it.
Kandi Mossett is an organizer with the Indigenous Environmental Network. She joins us now by phone from North Dakota. Welcome back to CounterSpin, Kandi Mossett.
Kandi Mossett: Thank you. It's good to be back here.
JJ: When we spoke with you last September, the resistance of the Standing Rock Sioux and other indigenous communities against the Dakota Access Pipeline had yet to make the broadcast nightly news. The struggle did get media attention after that—not always thoughtful attention, but some attention. But now, again, after the pipeline's completion, it would appear that some of the press, anyway, think that the struggle at Standing Rock is not just over, but lost. What would you like people to understand about what's happening right now?
KM: I really hope that people understand that what happened at Standing Rock, the importance of it, can't be undermined in any way, shape or form, because it was absolutely not a loss, nor is it over. We have a lot of things that are going on right now in reference to the Dakota Access Pipeline. We've been lifting up the struggles that have already occurred. There have been three leaks in that pipeline since it has begun operations. There were two in North Dakota and one that you might have heard of, a bigger one, in South Dakota.
We also have the North Dakota Public Service Commission, which was working with Dakota Access at the time. They have to put all these permits out and stuff when they do the whole process of having a pipeline. Well, they're actually preparing a case right now, one next Thursday. They are going to court against Dakota Access for at least four major violations that this company made. That was failure to notify the Commission of their route changes; they had tree removal violations; they did separation of topsoil from subsoil, and those were violations. And they also had a violation of the company's spill-prevention plan.
So that case, happening next week, carries different fines and different things, negative things, against the company that can come along with it, and this is at a time when we have a judge, Judge Boasberg, who ordered that, yes, they did mess up, and there needs to be a further environmental review done, and he came up with that in June. So that was another victory for us in the court case that still continues on.
Now we're pushing this judge to decide to shut down the operation during the environmental review, which can take anywhere from one to three years to complete. They also do not have a plan for wastewater, or for spills, or anything like that. And so it's really important that people understand all of these processes are in play, and we're still looking at the possibility of shutting down the Dakota Access Pipeline.
JJ: Well, that's very exciting, and not necessarily what I would guess from coverage. Because one sort of got the sense that, well, Trump came in and greenlighted everything, and that's not the case. I mean, he may have tried to, but it sounds as though it hasn't won the day yet at all.
KM: At all. In fact, he overstepped his authority in many regards to that particular signature that he put down, which is why it's coming out now. The reason why it's taking so long is because court processes operate that way. We don't expect the judge to make this decision until September, for shutting down the pipeline while they do an environmental review. But as the Public Service Commission comes forward with their case here in North Dakota, to show the environmental violations and different regulations that this company violated, the case is stronger and stronger to shut down this pipeline while this review actually happens.
The thing is, is that it's all being done backwards, because of this rushed, get-it-done, get-the-pipeline-in-the-ground nature, and it should call to attention to more people that laws were violated, laws were broken. Even though we're not in the camp anymore, we're still fighting for our constitutional rights to uphold laws.
JJ: And speaking of that, and of courts, more than 800 people were arrested during the resistance and, of course, whatever else happens ,those people are still personally very much in danger. What can we say about the situation of folks who are fighting for their right to have stood up against this?
KM: It's going on a case-by-case basis right now. But we are seeing a lot of wins in the sector of all these people that are going to court. The thing is that it's costing folks money to go back and forth, and they keep cancelling court dates and making people go back, and just really making people's lives miserable that were arrested simply for saying, we don't want this, we never did want it, water is life.
So it is definitely a situation where the lawyers of the Water Protector Legal Collective are working that we can actually drop all of the cases. And this is coming up from investigative reviews that are being done against TigerSwan, against intelligence-gathering sources here in North Dakota. A lot of behind-the-scenes information around just how crooked, I would say, the system was, when it came to Standing Rock water protectors, is all coming out now in investigations.
So that's actually a really good thing for us. We're seeing a lot happening, and the Water Protector Legal Collective is a place that people can go. It's WaterProtectorLegal.org. So you can actually donate to the cause, to the fight to help out the 800 arrestees. You can look at their names, you can figure out who's all still fighting in the courts, and specifically donate to individuals. So it's a really good thing to continue to help this fight at Standing Rock, that it continues on, like you said. The media might not be covering it, because people aren't getting shot at, but we're very much still in the battle.
JJ: I wanted to talk a little bit about TigerSwan, because that has been one of the most alarming aspects, was Energy Transfer Partner, that's the DAPL parent company, hiring TigerSwan, this group founded by retired members of a US military counterterrorism unit, Delta Force. And the website The Intercept got some internal documents showing that TigerSwan likened pipeline opponents to "jihadists," and described them as "an ideologically driven insurgency with a strong religious component," on which we might have many notes. But I would say, also, another document said,
While we can expect to see the continued spread of the anti-DAPL diaspora…aggressive intelligence preparation of the battlefield and active coordination between intelligence and security elements are now a proven method of defeating pipeline insurgencies.
Now this is the group that's working hand in glove with law enforcement. So we see the state and private corporations acting as one, and then you have a situation where if you have a fight with a company, you're basically labeled a terrorist. And I know that this isn't unique, but it just seems to me like, whether DAPL is your fight or any other fight, you have to see the danger of what's happening there.
KM: That's exactly right, and that is why Dakota Access Pipeline, and this fight against it, is really historic. We stood up against these things that are happening anyway, and are bringing it to the national attention and the national spotlight. Look, if it can happen here, it can happen anywhere to anybody. Privacy is being hacked into, people aren't allowed to exercise our constitutional rights in the United States that we say are so important.
And we're showing that the industry has so much power and so much control, but at the same time, regardless of what TigerSwan says in their own report, we know that we're winning, because they recently applied for a permit to operate in Louisiana.
Now, a lot of people don't know that the Bayou Bridge Pipeline is a fight we're fighting as well, because it will connect to the Dakota Access Pipeline in Illinois. And that is how our country is moving this Bakken oil out of the country. We don't get any of the oil being extracted here.
But that permit that TigerSwan applied for in Louisiana was denied by the state of Louisiana, because of their actions in North Dakota. Now, had we not been there and shown up and fought back against this company, they might still have free rein to go wherever.
So you see, it's so important to look at the big picture and long-term of these fights and these battles, and not be afraid to deal with those short-term consequences that are really horrific. It was really bad for us. I was in the camp for seven months, fighting, because of this oil that's coming from my own homeland. I'm sitting here at my mom's house in Newtown right now, and getting ready to do a toxic tour, and getting ready to show people that the extraction still exists, here in the Bakken, for this oil that's going to Dakota Access. The fight doesn't end until we stop it at the source, and keep these fossil fuel projects from happening. We say, keep it in the ground, keep the oil in the ground. And that's what we're continuing to fight to do.
JJ: And I would only add, in terms of media, keeping it in the ground is the scientific consensus. It's not a fringe idea, it's a scientific consensus that if we want to avoid—besides the immediate impacts, even, which are catastrophic enough—the global impact of not leaving fossil fuels in the ground are understood. And so I would hope that media coverage would always begin and end with that fact.
KM: That's the goal. That's what we working for. And we just need more and more people to wake up and have the will to say, you know what, I'm going to make a slight change in my life today. Because a lot of times, the blame gets placed on the individuals. Well, you use this, you use that, this is how you live. We have to really focus on placing the blame where it squarely belongs, which is on the industry and the corporations that are making products, that they don't give us any other choices. Why is it that in the United States of America, we don't have an entire fleet of only solar-powered plug-in hybrid vehicles? Why are gas guzzlers even still made? It's the system that has this negative feedback loop, and this system needs to be changed. And people like myself, like all of the listeners, need to be given the options and choices that already exist. We're just not being told about them, or given access to them.
JJ: Well, thank you so much, Kandi Mossett. We've been speaking with Kandi Mossett, an organizer with the Indigenous Environmental Network. It sounds as though the hope that people placed in the peaceful resistance at Standing Rock, that hope is still alive.
KM: Hope is alive. They'll never, ever, ever take our hope from us, and that's the most important and powerful thing that came out of Standing Rock. That fire that burned that whole time is still burning in all of our hearts, and it will continue to do so until we win.
JJ: Kandi Mossett is an organizer with the Indigenous Environmental Network. They're online at IENEarth.org. Kandi Mossett, thank you so much for joining us again on CounterSpin.
KM: Mah-zah-gih-dats. Thank you.
Oct 27, 2016
The video above was recorded at camp in early Oct. Below is Kandi's statement on 10-27-2016 after the sacred sights were desecrated:
Friends and Family. I just made it back to my computer. My car is at the frontline with my phone in it because it was charging and then they came with tanks and riot police and I got caught off guard when one of those sound grenades went off and someone next to me got shot with what we think was a rubber bullet or bean bag bullets and looked like it broke his ribs. Later another guy right next to me was grabbed randomly by police and I got shoved into them and so they sprayed everyone and I got hit by the spray but stayed on the front line as they backed us up back towards the camp. This is a severely edited version but it was choas and like war and I'm sick like I feel ill but I'm ok and some people were arrested and they took Casey Camp when she was praying and it was insane. I can't believe what happened to us today. There were fires with vehicles and equipment on fire and military tanks and police atv's surrounding us and two helicopters and one plane flying overhead. There was a sniper in the water and he got surround by our people and the BIA came to arrest him and they were using the MRAP sound machine on us and people were hurt today by the police. It was all the police escalating and escalating because they came and forcibly removed us forcing us back to the reservation line. I have to lay down a moment and drink water or eat or something I feel sick but wanted to let people know I did not get taken and am ok.