Opposition Mounts as California Expands its Cap-and-Trade Market Regime
to Include Methane Capture from Coal Mining and Rice Farming
Contacts:
Tom B.K. Goldtooth, Indigenous Environmental Network, 218-760-0442, ien@igc.org
Mari Rose Taruc, Asian Pacific Environmental Network and AB32 Environmental Justice Advisory Committee member, 510-258-1878, marirose@apen4ej.org
For Immediate Release: April 25, 2014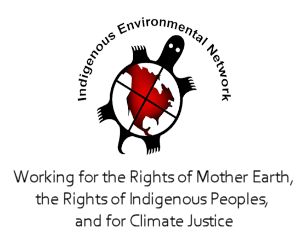 Sacramento – Global civil society, Indigenous Peoples, environmental organizations and social movements from over 30 countries slammed the State of California's plans to include methane offsets from coal mining and rice cultivation in its cap-and-trade program because they are false solutions to climate change that greenwash mining and use food for carbon trading.
"The peoples of the world reject offsets and carbon traders, big polluting corporations like mining companies and oil giants Shell and Chevron, defend offsets," notes Americans against Offsets.
This resounding international outcry has already opposed other forms of offsets in California's Global Warming Solutions Act (AB32) including offsets from urban trees, domestic and Canadian forests, and REDD (Reducing Emissions form Deforestation and Degradation) in countries such as Mexico, Brazil and other tropical forest countries. Furthermore, the Environmental Justice Advisory Committee of AB32 echoed this opposition to offsets when it submitted its final recommendations to the California Air Resource Board on April 11, 2014.
"Offsets are a carbon trading scam to supposedly compensate greenhouse gas emissions and are used by polluters instead of reducing pollution at source", says Tom BK Goldtooth, executive director of the Indigenous Environmental Network, who has 16 years of experience participating in national and United Nations climate negotiations.
The California Air Resource Board (CARB) is slated to adopt the Mine Methane Capture Protocol today at its board meeting in Sacramento. The Rice Cultivation Projects Compliance Offset Protocol is slated for adoption in September 2014. This follows CARB's actions fast tracking the implementation of REDD, a highly controversial forest and plantation offset with uncertainties that beset offsets, including measurement, verification and environmental and human rights concerns.
"The use of offsets, and the possible allowance of offsets from coal mines, is completely counterproductive to any real progress in reversing the root causes of climate change," Wenonah Hauter, Executive Director of Food and Water Watch stated in the public comment process of CARB in October 2013. "Offsets do not lead to real, additional, or permanent emissions reductions… Addressing climate change requires direct pollution reductions, as well as the use of sustainable and renewable energy sources."
California Assembly member Nancy Skinner, who serves on the committee on natural resources and public safety, wrote to CARB requesting it postpone indefinitely the adoption of the methane offsets protocol. According to Ms. Skinner, "The protocol, as written, will subsidize coal mining, likely for export… Mine Methane Capture could actually increase carbon emissions…We cannot have a policy that directly incentivizes coal mining. The best way to reach our AB 32 goals is to keep coal in the ground."
Goldtooth agrees, "IEN just released a brief report, "Burn, Baby, Burn: California's Methane Offsets", that shows the MMC has extremely strong potential to become a major driver of national coal mining. The proposed offset protocol purports to be about the environmentally motivated capture and destruction of methane gas for offsets.   However, it actually incentivizes and subsidizes the development of additional and potentially major coal mining and natural gas extraction operations, including flaring and burning, in existing and future coal mines. And let us not forget that coal is the biggest contributor to climate change.""
CARB is moving aggressively to include its first agricultural-based offsets into its cap-and-trade program. The Rice Cultivation Project Protocol will open the door for carbon offsets from growing rice. Over 125 civil society organizations from 30 countries sent the "No REDD Rice Manifesto" to the CARB demanding the rejection of the rice cultivation offset protocol and denouncing the use of sacred staple crops and food for carbon trading. The public comment log shows that 90.7% of the respondents are against rice offsets, and only 7.4% in favor.
According to Kartini Samon of GRAIN's Indonesian office, "REDD is another form of privatization of our natural resources including land, water, seeds and air. REDD rice will increase land grabbing of farm land all over the world. We really need to fight REDD rice."
"I thought California wanted to be a leader for real climate action. If they do, they need to cancel all offset regimes," Goldtooth concluded.
Concerns have also been raised about the lack of transparency of the Air Resources Board's comment log and attempts to minimalize the overwhelming opposition to offsets.
"We refuse to be erased," said Americans against Offsets. "Stopping offsets is a matter of life and death for Americans and the planet."
Download the Report: Burn, Baby, Burn:California's Methane Offsets (PDF)
For more info: http://no-redd.com/