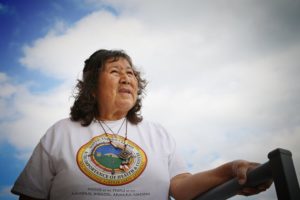 It is with a sense of great loss that we share the loss of our beloved elder, grandmother, and teacher Josephine Mandamin. Please read the words of her life of service to the people, watch and listen to her words in videos, and a sampling of the many tributes shared by all who loved, respected and will clearly miss the absence of Grandmother Josephine by scrolling down this page. Her teachings and stellar example of what it is to truly care for Mother Earth and all her children -as she showed us, with her example, how to walk our talk and leave a better place for the Seven Generations to follow.
Grandmother Josephine above at the 16th Indigenous Environmental Network's Protecting Mother Earth Gathering on Ft. Berthold, ND photo and article below: "Meet Josephine Mandamin…" below, by Ayse Gursoz
Water walker begins journey to spirit world
Tributes continue to pour in for respected elder and water advocate Josephine Mandamin following reports of her death across social media this morning.
Mandamin, who was widely acknowledged as the leader of the water walk movement, began the walks in 2003 out of concern for the health of lakes and rivers throughout Turtle Island, eventually walking the shorelines of all five Great Lakes during the Mother Earth Water Walks and logging more than 25,000 kilometres for water advocacy.
Mandamin participated in her final water walk in 2017.
On Friday, the Anishinabek Nation acknowledged its chief commissioner for the Anishinabek Nation Women's Water Commission.
"It is a very sad day. We have lost a great advocate, teacher, and role model. She will be so deeply missed by all and will be fondly remembered for all of what she did to protect the water. Our prayers are with Josephine as she begins her journey home into the Spirit World and back to her ancestors," said Anishinabek Nation Grand Council Chief Glen Hare in a press release. "Our thoughts of comfort are with Josephine's family and community as they prepare for her journey."
Locally, Shingwauk Kinoomaage Gamig released a statement to honour Mandamin, who graduated from the post-secondary institution with a degree in Anishinaabemowin .
"Josephine was presented with a prophecy from an elder within the Three Fires Midewiwin society in the year 2000 that warned that water will cost as much as gold by the year 2030," read the statement. "For the Anishinaabe, water is associated with Mother Earth and it is the responsibility of grandmothers to lead other women in praying for and protecting the water."
In the summer of 2018, SooToday reported that a permanent exhibit dedicated to Mandamin's water walks could be housed in the Anishinabek Discovery Centre, which will become the new home for Shingwauk Kinoomaage Gamig upon the building's completion.
Algoma University Archives has been compiling water walk memorabilia, photos and stories in order to preserve a part of Mandamin's legacy at the new centre.
"We could be housing all the media clippings and all of those sorts of things – all of the documents for itineraries and planning and putting together the walks, so students can get a sense of how that happens and the behind-the-scenes of that," said Mitch Case, director of student services, outreach and resources for Shingwauk Kinoomaage Gamig during an interview with SooToday in September 2018. "We could very well end up with a collection of Josephine's old sneakers, you know?"
Funeral arrangements for Mandamin will take place in Wiikwemkoong Unceded Territory, which is situated on Manitoulin Island.
Meet Josephine Mandamin (Anishinaabekwe), The "Water Walker"
With a copper pail of water in one hand and a staff in the other, Josephine Mandamin, an Anishabaabewe grandmother took on a sacred walk, traversing over 10,900 miles around each of the Great Lakes. She is known as the "Water Walker."
According to the Michigan Sea Grant, the Great Lakes shoreline is equal to almost 44% of the circumference of the earth.  "When you see someone walking with a pail of water, you wonder, where is she going with that water."
So the message is, water is very precious, and I will go to any lengths to and direction to carry the water to the people."
"As women, we are carriers of the water. We carry life for the people. So when we carry that water, we are telling people that we will go any lengths for the water. We'll probably even give our lives for the water if we have to. We may at some point have to die for the water, and we don't want that," said Mandamin.
Mandamin joined the team of indigenous representatives from the Indigenous Environmental Network at the People's Climate March during the week of September 18th to the 24th.  "Why I'm here is because I really feel for the water. And to give the message to people that Water is a human right."
"Water has to live, it can hear, it can sense what we're saying, it can really, really, speak to us. Some songs come to us through the water. We have to understand that water is very precious."
In Anishinaabekwe culture, women are given the responsibility to take care of the water.  "The water of Mother Earth, she carries life to us, and as women we carry life through our bodies. We as women are life-givers, protectors of the water, and that's why we are very inclined to give mother earth the respect that she needs for the water," said Mandamin.
That's our responsibility, our role, and our duty, to pass on the knowledge and understanding of water, to all people, not just Anishinabe people, but people of all colors."
In the wake of extreme extractive industries such fracking, oil, and coal, access to clean water is rapidly declining.  "In our prophecies, in our Three Fires Midewiwin Society, we are taught that water is very precious.  I was told by a grand chief that 30 years from now an ounce of water will cost as much as an ounce of gold if we continue with our negligence," said Mandamin.
"If we discontinue our negligence, we can change things around.  That's why I am really embodying the prophecy.  You've heard of 'Walk The Talk,' this is why I walk."
Statement on the passing of Grandmother Josephine Mandamin
SOURCE Crown-Indigenous Relations and Northern Affairs Canada (CIRNAC)
OTTAWA, Feb. 23, 2019 /CNW/ – The Minister of Crown-Indigenous Relations, Carolyn Bennett, issued the following statement today:
"Along with the Anishnabek Nation we mourn the passing of Water Protector Josephine Mandamin, beloved role model, teacher and advocate.
Known as Grandmother Water Walker or Grandmother Josephine, she devoted her life to raising awareness of the connection water has with all living things. She taught all of us of the fragility of water, and the risks that exist to the health and sustainability of our waterways.
The important work she started through Mother Earth Water Walk and the Great Lakes Guardians' Council lays the foundation for the future of the Great Lakes Waterways, and for the next seven generations of water walkers and water warriors from across Turtle Island.
She has touched many of our lives and we are truly grateful to have gained knowledge and wisdom from this inspirational woman and her life's work.
Miigwetch Grandmother Josephine."
Prayers from the Shingwauk Kinoomaage Gamig Family as She Begins Her Four-Day Journey to the Spirit World
Since 2003, Josephine has wlked the shorelines of all the Great Lakes, around 17,000 miles. Currently, Josephine's total kilometres walked for the water has been tallied at over 25,000 kilometers. Josephine walked her last wter walk in the summer of 2017.
Josephine is originally from Wiikwemkoong Unceded Territory and is a member of the Grandmothers Council of the Three Fires Midewiwin Lodge.
The Shingwauk Kinoomaage Gamig family sends our prayers for Josephine as she begins her four-day journey to the Spirit World. We ar sending our thoughts and prayers to her husband Andrew, her children and her communities that she inspired, including the Three Fires Midewiwin Lodge, the Mother Earth Water Walkers and people all around the world who work for clean water and the protection of our Mother, the Earth.
Josephine is an alumni of Shingwauk Kinoomaage Gamig, having graduated with a degree in Anishinaabemowin.
Ni guh aqzhi chigaye nibi onji.
Water Walker Josephine Mandamin Remembered by ORC Archibald