Construction stopped at Mississippi Headwaters for 48 hours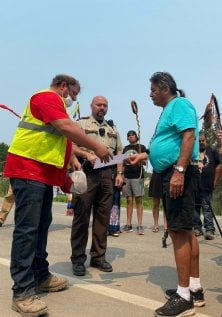 (Minnesota) Yesterday, Tuesday July 27th, Ray Auginash, White Earth tribal official, issued a cease and desist letter to Enbridge construction workers at the Line 3 pipeline crossing near the Headwaters of the Mississippi river. The letter called on Enbridge to halt construction at the site for two days for Indigenous water protectors to exercise their treaty rights and hold a ceremony for the water. Indigenous water protectors and non-Native allies, led by the RISE coalition, then began that ceremony of healing and protection for the river, which was harmed by the recent spill at the site.
Ray Auginash, District I Representative for the White Earth Reservation Business Committee, spoke of their actions saying, "We are here as a peaceful people. We care about our water, we care about our rice."
During their gathering at the headwaters, the assembled water protectors sent off a group of runners from the Standing Rock, Fort Peck, and Cheyenne River tribes who are running from Standing Rock along the Line 3 pipeline route in a healing prayer run. The runners were at the Red Lake Treaty Camp on Sunday and stopped at the headwaters before heading on to the next camp.
Last week, Enbridge's new Line 3 pipeline was responsible for another spill into Minnesota's waters. On Tuesday, water protectors discovered a "frac-out," or an accidental release of drilling mud and chemicals, into the headwaters of the Mississippi. Striking photos show the harm the spill has already caused the fragile wetland ecosystem. A similar spill was discovered earlier this month at the Willow River.
Audrey Thayer, in attendance at the ceremony, said, "I am an enrolled member of White Earth Nation and sit on the Bemidji City Council. This isn't about politics, it's about water. We are all neighbors. Today is about the water and the wild rice and the sovereign rights of our tribal nations."
The RISE coalition's actions at the headwaters have also called attention to Anishinaabe treaty rights. In June, the group led an 8 day occupation of Enbridge's easement at the headwaters called Camp Firelight. Although they were allegedly "trespassing" on Enbridge property, Indigenous water protectors continued to assert their treaty rights to be on their ancestral lands.
Justin Keezer, a White Earth community member said, "We want people to understand that we have agreements between our Government and the US Government. Those are treaties. We have rights that are guaranteed, to hunt, fish, gather, travel, and practice our religion."