Water protectors, I'm writing to you personally because my hope is shrinking and my worry is deeper than it has ever been.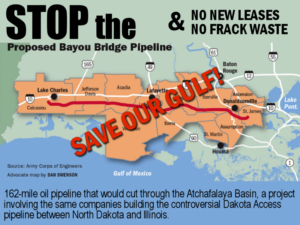 Quite frankly and equally unashamed – WE NEED YOU. I am asking you to make plans to joins us at L'eau Est La Vie Camp ASAP, within the next 6-8 weeks (most effectively in the next four).
We've been fighting this battle to stop the tail end of DAPL, known as Bayou Bridge. We have won on both a state and federal level, yet the construction continues… The hundreds-of-years-old Cypress trees continue to fall, the water and wildlife cry out from the war zone, and the people in the path are squashed even further beneath the shoes of the oppressor.
I realize that it is ceremony time. I realize that there are other important fights out there, and I wouldn't want anyone to do what they are unable or morally opposed to… but if you ever thought about coming to fight beside me/us, that time is now and honestly like no other.
Our window grows small by the hour. They will have completely clear-cut the Atchafalaya Basin within the next two weeks. They will have under-bore most, if not all, 700 endangered waterways within the next two months.
Even now, and although the permit has been deemed illegal by the courts for the coastal zone – ETP sloppily slams through St. James. A freed-slave founded community there has asked repeatedly for at least an evacuation route so that they could carry out the disabled and the children when (not if) one of the many chemical plants and refineries around them should explode… I don't feel like that is too much to ask. Do you?
But to be real, who stands with those deemed powerless by this society, if not you or I?
I know that I will stand, regardless of consequence, because this is my home, because I swore a verbal or non-verbal oath of allegiance to all those that I have mentioned above, and because I cannot and will not let these a**holes believe that what they have done to my family is the textbook response for other battles.
As one landowner said in court, "They may win, but their DNA will be under my fingernails."
I believe we will win, but we will not win without more skilled hands and feet on the ground. We are running with an amazing, courageous, exhausted, and too small crew for the strategy that is needed in these next few precious weeks.
Please help us. We can provide limited travel support funding if that is needed.
Thank you for your consideration, and many blessings to you always.
With sincere love and appreciation