By Emily Saari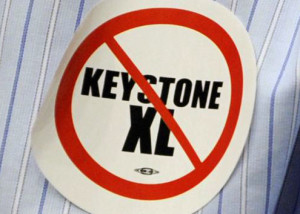 The U.S. Environmental Protection Agency (EPA) has challenged the State Department on its draft environmental impact statement on the Keystone XL pipeline, objecting to its conclusion that the Keystone XL presents no significant climate change impact or environment risk. This criticism raises an important hurdle in the overall executive review process for its approval, and gives the pipeline's opponents additional support in their fight against the project.
The U.S. EPA's challenge comes alongside more than 1 million public comments sent to the State Department criticizing the review and opposing the Keystone XL pipeline.
According to the EPA's letter, issued by assistant administrator for enforcement and compliance Cynthia Giles, the State Department's supplemental environmental impact statement has failed to support two of its most important conclusions: that the pipeline would not significantly contribute to climate change and that Canada would develop the greenhouse gas-intensive tar sands regardless of whether the U.S. pipeline was approved.
Giles raises the point that it is not certain, as the State Department assumes, that Canada will be able to ship its tar sands by railway if the pipeline is not constructed. The assumption that rail and pipeline are equally viable methods of transport was very recently undercut by an investigation by Reuters, which found rail to be short on shipping capacity.
These same concerns were raised by environmental and climate groups upon the release of the State Department's review in early March, many of which found the review to be full of false assumptions and holes. Additionally, investigative journalism revealed that the contractors hired by the State Department to perform the environmental review had past ties to the fossil fuel industry, raising a conflict of interest.
The flawed analyses and persisting conflicts of interest within the State Department indicate to many that their conclusion on the Keystone XL is not objective and should not be the basis for President Obama's ultimate decision on the pipeline's permit. The EPA's additional criticism of the methodology of the review helps to support the efforts of environmental and climate groups urging President Obama to deny the pipeline for the benefit of communities along the pipeline and the global climate.