By Lauren Krugel, THE CANADIAN PRESS February 13, 2013
CALGARY — TransCanada Corp. said Tuesday it aims to file a regulatory application for its eastbound pipeline proposal by year-end following "encouraging" feedback from potential customers.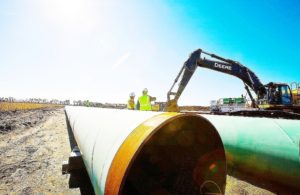 The Calgary-based pipeline (TSX:TRP) giant also acknowledged that a long-awaited State Department decision on its controversial Keystone XL oil pipeline is unlikely to come during the first quarter of this year.
TransCanada is in the midst of gauging shipper interest in a project that would see part of its underused natural gas main line converted to oil service, shipping as many as one million barrels a day of western crude to refineries in Quebec and potentially the East Coast.
"Discussions with potential shippers and other stakeholders are well underway to determine if it is a project that the market wants and I would say to date, those discussions have been very, very encouraging," CEO Russ Girling told analysts on a conference call.
Politicians are on board with the notion, with New Brunswick Premier David Alward and Alberta counterpart Alison Redford touting eastern pipelines in Calgary last week. Federal Natural Resources Minister Joe Oliver has also embraced the idea.
Refineries in Eastern Canada and the U.S. Eastern Seaboard currently import some 1.5 million barrels a day of expensive crude from countries such as Saudi Arabia and Libya, said Alex Pourbaix, president of energy and oil pipelines at TransCanada.
Refineries in that part of the continent are geared to process light crude, so oil from areas like Saskatchewan is more likely to flow there than from the oilsands — at least initially.
Pourbaix says he sees an "open season" — a period of 30 to 60 days where potential customers can bid for space on the line — taking place toward the end of the second quarter.
TransCanada would like to have some comfort in the level of interest before reaching that stage, he added.
"We want to make sure we sop up all the potential barrels that are out there, but we wouldn't go to an open season unless we were very comfortable of getting a minimum level of commercial support for the project," he said.
The company also intends to spend a lot of time in coming months engaging with communities along the route.
On Keystone XL, Pourbaix said he's expecting the State Department to release a supplemental environmental impact assessment shortly, taking into account changes to the pipeline's route through Nebraska.
After that, it would take another two to three months to make a final decision, pushing a decision past the first quarter of 2013.
More than a year ago, the Obama administration rejected an earlier iteration of its controversial Keystone XL pipeline in its entirety, mainly as a result of an environmental backlash in Nebraska.
TransCanada then broke the project up into two parts. The southern portion between Oklahoma and the Gulf Coast, which does not need a permit because it doesn't cross the Canada-U.S. border, is 45 per cent complete and on track to start up by year-end.
The fate of the $5.3-billion northern portion is currently in the hands of new Secretary of State John Kerry. Last month, the Nebraska governor gave his blessing to a new route through the state that still crosses part of the Ogallala aquifer, but avoids much of the Sand Hills region.
TransCanada expects that 830,000-barrel-per-day line to start up in late 2014 or early 2015.
Earlier Tuesday, it said its fourth-quarter earnings were dragged lower by power plant outages and weaker contributions from its natural gas pipelines.
Comparable earnings were $318 million for the last three months of 2012, down from $365 million during the same period a year earlier.
On a per-share basis, that amounted to 45 cents, down from 52 cents a year earlier and missing the average analyst estimate of 49 cents, according to Thomson Reuters.
Revenues rose to $2.09 billion from $2.02 billion.
On the call, Girling called the results "solid" but "not reflective" of the company's "underlying earning power."
Lanny Pendill, an analyst at Edward Jones, said the quarter was a "slight miss," mainly on the power side of the business.
The main issue was a slow restart to two refurbished units at the Bruce Power nuclear generating station on the shores of Lake Huron in Ontario.
"For more of a higher-level perspective, our long-term outlook remains intact," said Pendill.
"If you look at the projects that the company has in place, commercially secured, we still see a company that's going to be able to provide above-average earnings growth and dividend growth over the longer term. From a lower-risk type of utility company, that bodes very well for shareholders in our view."
TransCanada also said its quarterly dividend will rise by two cents per share to 46 cents for the quarter ending March 31, an increase of five per cent.
© Copyright (c) The Montreal Gazette