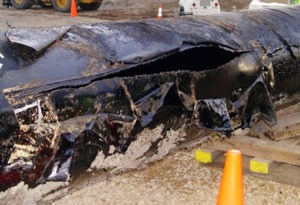 On March 29, Exxon's Pegasus tar sands pipeline ruptured, flooding a suburban community in Mayflower, Ark. with between 150,000 and 210,000 gallons (3,500 to 5,000 barrels) of tar sands crude. According to reports, the Pegasus line was carrying Wabasca Heavy diluted bitumen–a toxic mix of heavy tar sands bitumen and volatile petrochemical diluents.
Following the incident, Rep. Ed Markey observed:
This latest pipeline incident is a troubling reminder that oil companies still have not proven that they can safely transport Canadian tar sands oil across the United States without creating risks to our citizens and our environment.
Here are the top five reasons why transporting tar sands crude oil is risky:

1) The transport of increasing volumes tar sands on the U.S. pipeline system is a recent development. Thick tar sands diluted bitumen substantially differs from the lighter conventional crudes historically moved on the U.S. pipeline system. The first imports of diluted bitumen came from pipelines in the northern Midwest in the late 90s and have increased exponentially since then. Accident reports from the Pipeline & Hazardous Materials Safety Administration (PHMSA) shows that those northern Midwestern states moving the largest volumes of tar sands diluted bitumen for the longest period of time spilled 3.6 times as much crude per mile as the national average from 2010 to 2012.
2) Tar sands pipelines operate at higher temperatures than conventional crude pipelines. Moving thick tar sands diluted bitumen through a pipeline requires enormous energy and creates significant frictional heating for pipelines. Studies of California's pipeline system show that pipelines that operate at temperatures above 100 degrees Fahrenheit spill due to external corrosion up to 23 times more often due to external corrosion than conventional pipelines. The State Department's Draft Supplemental Environmental Impact Statement estimated that the proposed Keystone XL tar sands pipeline would operate at between 130 to 150 degrees.
3) Tar sands pipelines have greater risk of corrosion than conventional pipelines. The Enbridge mainline, the first pipeline system to move significant volumes of tar sands diluted bitumen into the U.S., spilled nearly a million gallons of tar sands into the Kalamazoo River in 2010 after a rupture caused by external corrosion. Internal corrosion caused a spill of nearly 40,000 gallons in December of 2012 on the same tar sands pipeline system in Illinois.
4) When spilled, tar sands diluted bitumen is significantly more damaging and difficult to clean than conventional crude, particularly in water bodies. After nearly three years and a billion dollars have been spent on cleaning the Kalamazoo tar sands spills and more than 38 miles of that river are still contaminated by submerged tar sands bitumen. Spill responders found that conventional spill response equipment and methods proved ineffective for containing and cleaning tar sands.
5) TransCanada's Keystone XL tar sands pipeline brings significant risks to American communities and water resources. TransCanada is currently under a sweeping investigation by Canadian regulators after two whistleblowers have documents repeated violations of pipeline safety regulations by the company. It's most recently built pipelines–Keystone I and Bison–have had significant problems despite carrying special safety conditions and being pitched as being safer than other pipelines. Keystone I had 14 leaks in its first year of operation and was the newest pipeline to be forced to shut down by regulators. The Bison pipeline exploded. The 'conditions' TransCanada has agreed to for Keystone XL are similar to those agreed to for prior pipelines largely replicate existing requirements. None address the risks associated with a project that would carry nearly ten times as much tar sands crude as the Pegasus tar sands pipeline through American communities and water resources on its way to international markets.
Article Source: EcoWatch