Kari-Oca II
Indigenous Caravan to Rio +20 is an initiative of young indigenous people of Ecuador, Peru, and Bolivia. In this caravan, at least one hundred delegates from across Abya Yala will travel to Brazil by bus in order to participate in the United Nations Conference on Sustainable Development Rio + 20.
The Caravan was developed from a process of reflection among young indigenous peoples of Ecuador, who proposed to bring a message from their communities to Rio+20 and ensure indigenous particpation in the summit. The Caravan is based on the principles of minka, solidarity and participation.  The Caravan will visit Ecuador, Peru, and Bolivia,  and add delegates along the journey in order to collect the knowledge of various peoples and nationalities.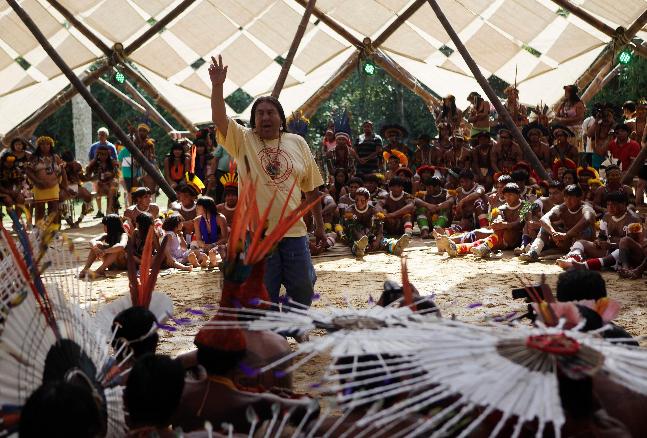 It is imperative to bring visions of a sustainable and responsible future to the summit. The visions of the indigenous delegates are based on the principles of "Living Well" or Sumak Kawsay, the UN Declaration on the Rights of Indigenous Peoples, collective rights and human rights.
In Rio,  indigenous peoples are organizing the World Indigenous Peoples Conference on Territories, Rights and Sustainable Development, also known as Kari-Oca II. Kari-Oca II will be held June 13-22, 2012. It will be hosted by the Inter-Tribal Committee of Brazil and is open to indigenous leaders from around the world. The conference aims to bring together some 400 – 600 participants to review and assess the gains and losses of the last twenty years, discuss their sacred relationship with Mother Earth, finalize their policy recommendations and positions for UNCSD, and develop common strategies for the future.
Image Credit: REUTERS
Published date: 06/14/2012