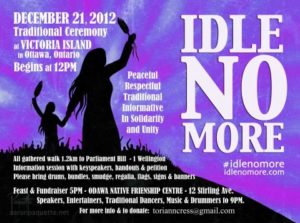 First Nations people and their supporters are uniting under the banner Idle No More against the federal government's changes to legislation which will affect treaties and traditionally used lands.
At noon on Friday, December 21st, a grassroots led protest is expected to attract thousands of Aboriginal people to a ceremony at Victoria Island, who will then march in solidarity on to Parliament Hill. Idle No More Ottawa will feature voices from many nations and political stripes in a speakers rally that will last until dusk.
The peaceful event page, which organizers simply posted on Facebook and Twitter, has elicited support for change from around what's known as Turtle Island and follows several similar protests held across Canada.
Ceremony, March & Speakers Timeline for Friday Dec. 21st
12:00 NOON Algonquin Elder Jose Dewache Whiteduck conducts a Ceremony.The Elder will say when it is okay to take pictures.
1:30 PM Ottawa Police Service officers close northbound traffic at Wellington & Victoria Island.Marchers assemble on Wellington Street and proceed head south/east on Wellington towardsOttawa along the closed left (westbound) lane to the Metcalfe gate of Parliament Hill.
2:30 PM Chief Gilbert Whiteduck will welcome us to Algonquin Territory.
2:35 PM Sylvia McAdams is an Idle No More movement founder
2:40 PM Charlie Angus is the Timmins NDP member of Parl.
2:45 PM Chief Theresa Spence Chief of Attawaspiskat First Nation or spokesperson
2:50 PM Wes Prankard a youth, has an organization called Northern Starfish
2:55 PM AFN Regional Chief Perry Bellegarde (Saskatchewan)
3:00 PM Carolyn Bennett Aboriginal Affairs Critic for the Liberal Party of Canada
3:05 PM AFN Regional Chief –Ontario
3:10 PM Lorraine Rekmans Aboriginal Affairs Critic for the Green Party
3:15 PM AFN Regional Chief Roger Augustine (New Brunswick / PEI)
3:20 PM Bridget Tolley heads up Families of Sisters In Spirit
3:25 PM Clayton Thomas-Mueller represents the Indigenous Environmental Network
3:30 PM Tori's speaker to be confirmed
3:35 PM Michelle Audette is Executive Director of the Native Women's Association of Canada
3:40 PM Assembly of First Nations National Chief Shawn A-in-chut Atleo
3:50 PM Elder smudges crowd for safe travel.
3:55 PM Head for the buses lined up along Wellington westbound for passenger pickup