Bemidji, MN – The Indigenous Environmental Network and on behalf of all frontline Indigenous Peoples across Turtle Island, we send sincere thanks, appreciation and a heartfelt handshake to Leonardo DiCaprio.
A lot of people at home were pretty excited about this movie from the onset. It's really the first time a part of our history is being represented like this on the big screen; I mean, to go to the movie theater and hear Arikara is not exactly an everyday occurrence! So naturally many of us were instantly proud of everyone who had a hand in the movie and have been eagerly awaiting its release and gearing up to go see it in the theaters.
Last night, when the Golden Globe for Best Actor in a Drama for his performance in The Revenant went to Leonardo DiCaprio and then he gave his acceptance speech, it was all icing on the cake!  It was so on point and reminded me that he continues to walk his talk from when I first had the chance to informally meet him in 2014, as he marched with the Indigenous Bloc at The People's Climate March.  To date, this was the largest gathering for climate justice in history, drawing 400,000 people to the streets of New York City.
Later that same week I watched him deliver his speech at the opening of the United Nations Climate Summit 2014. I sat there in the balcony with a big smile on my face as he was challenging industries and governments from around the world to take decisive, large scale action on climate change. And for our leaders to end the free ride that polluters have been given in the name of the free market economy.  I was like yes!
Those words hit home because that's exactly what's happening as extreme energy extraction operations in the form of fracking are destroying our Mandan, Hidatsa, Arikara homelands today. It's also what is happening around the world as the last of the fossil fuel reserves, 80% of which are on Indigenous lands, are exploited for profit driven by corporate greed.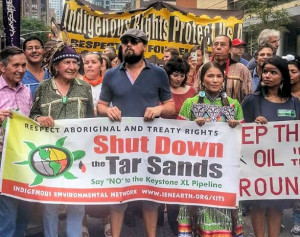 I'm so thankful to Leonardo for continuing to be a champion for Indigenous Peoples, using this time of recognition for his talent to speak out about our struggles to people who otherwise might not know.  He's a person that I first recognized and admired (in a love struck girly kind of way) when he was in Titanic, back when I thought of him as "just an actor." Today, I look at him as a person whom I've come to respect and admire for the work he's done to lift up Indigenous Peoples Rights and for his courage to speak truth to power- urging the powers that be to take real action on the climate crisis.
The work we do as organizers with the Indigenous Environmental Network is not easy. It requires sacrifice away from our own families and requires us to put in many hours of hard work that at times can be completely overwhelming. To do this we draw our strength from our traditional knowledge- fulfilling our responsibility to honor our ancestors and to protect all that we can for our next seven generations.
Knowing Leonardo is in our corner makes that work a little bit easier — and though it's hard work it's also extremely rewarding, especially when we can celebrate the victories.  Sunday evening  was another one of those times where we draw a bit more strength knowing we have support for our work from others and that more attention is being given to the struggle for the rights of Indigenous Peoples.
So to Leonardo DiCaprio, I am asŝkawiitik (thankful) for you and people like you. Keep motivating, keep educating and keep inspiring.
Kandi Mossett
Mandan, Hidatsa, Arikara
Lead Extreme Energy & Just Transition Campaign Organizer
Indigenous Environmental Network