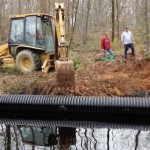 In March of this year, an Exxon Mobil pipeline in Arkansas burst, spilling about 200,000 gallons of thick Canadian crude oil. Three years ago in Michigan, an Enbridge Energy pipeline ruptured. More than 840,000 gallons of oil spewed into the Kalamazoo River. Communities in both states are still dealing with the aftermath. The fear of a major oil spill is one of the reasons many environmentalists are fighting the proposed Keystone XL pipeline. Industry experts argue pipeline technology has improved greatly in recent years. They say Keystone will be safe and will help the U.S. economy. Diane and her guests discuss the latest news on the oil spills and the safety of shipping oil through pipelines. LISTEN HERE.
Guests
Dan Frosch, reporter for The New York Times.
Andrew Black, president and CEO of Association of Oil Pipe Lines.
Anthony Swift, attorney with the Natural Resources Defense Council.
Dustin McDaniel, attorney general of Arkansas.
Richard Adams, senior vice president for operations at Enbridge Energy Partners.