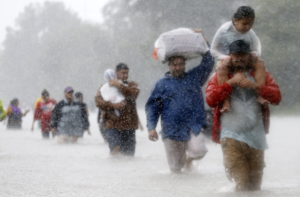 The devastation of Hurricane Harvey is horrific and unprecedented, affecting millions of people in Texas and Louisiana. Estimates are now being tallied from the impacts of widespread flooding and this event will be the largest ever since Katrina.
Beyond the obvious devastation and what is not being talked about enough in the mainstream is the environmental damage from leaking petroleum refineries, chemical plants, and manufacturing facilities. As the storm moved in these plants began shutting down operations which included burning off noxious gases into the air and releasing cancer-causing pollutants that made their way into rising waters.
We may never know exactly which ones or how much of these petrochemicals were added to the surrounding waters – compounding the struggle for those who've lost everything. We may never know exactly what chemicals and cancer-causing byproducts were released into the air, since the Texas Commission on Environmental Quality turned off the air quality monitors in an effort to protect the equipment from wind and rain damage. Therefore, we will have to depend on the spotty and historically unreliable reports coming from the polluting industries.
Today, we invite you to make a donation to Texas Environmental Justice Advocacy Services (t.e.j.a.s.) in Houston, which is monitoring the impacts on communities from the shutdown of the petrochemical industrial complex.
Climate change hits frontline communities the hardest, and has contributed to the severity of this storm, which has broken records from the most amount of rainfall from any tropical cyclone in the continental U.S. to the longest a Texas landfalling hurricane remained a named storm after landfall. Scientists warn that these extreme weather crises can no longer be considered rare events, such as a 500-year flood, but are standard in our fossil fuel-dependent and politically reprehensible reality.
A full clean up is predicted to take years and cost as much as $100 billion. To help with the immediate recovery, Another Gulf is Possible has set up a "frontline-to-frontline direct resource and support mobilization" page with information on material and monetary donations, drop-off locations, and how to report environmental hazards.
Our thoughts, love, and solidarity go out to affected communities, T.E.J.A.S. — whose staff are working around the clock despite flooded offices, and other local grassroots groups in this catastrophic time. Please share this email with others to support frontline organizations working for a just recovery!
Environmental Crisis Unfolding in Houston as Oil & Chemical Industry Spew Toxic Pollutants into Air
As fallout from Hurricane Harvey in Texas and Louisiana continues, at least 30 people have died and more than 17,000 people are in shelters. Hundreds of thousands are under evacuation orders, and all past U.S. rainfall records have been shattered. In Texas, a third of Harris County—which encompasses Houston—is currently underwater. Houston officials have imposed a mandatory curfew between midnight and 5 a.m. ExxonMobil says Harvey has damaged at least two of its refineries, causing thousands of pounds of chemicals to be released into the air. Residents in Crosby, Texas, are being evacuated amid concerns a chemical factory damaged by Harvey could explode. We speak with Bryan Parras, organizer with the Sierra Club's Beyond Dirty Fuels campaign and the group Texas Environmental Justice Advocacy Services (t.e.j.a.s.).
Read Full Transcript at DemocracyNow.com

Texas Environmental Justice Advocacy Services (t.e.j.a.s.) is a registered 501c3 nonprofit, dedicated to providing community members with the tools necessary to create sustainable, environmentally healthy communities by educating individuals on health concerns and implications arising from environmental pollution, empowering individuals with an understanding of applicable environmental laws and regulations and promoting their enforcement, and offering community building skills and resources for effective community action and greater public participation.
Our goal is to promote environmental protection through education, policy development, community awareness, and legal action. Our guiding principle is that everyone, regardless of race or income, is entitled to live in a clean environment.