Press conference: Capitol Building sidewalk, 15 minutes after PUC hearing ends
Press call: Wednesday, October 29, 11:30am CT: 866-952-7528, Passcode KXL
Dakota Rural Action will be live-tweeting the PUC hearing; follow @DakotaRural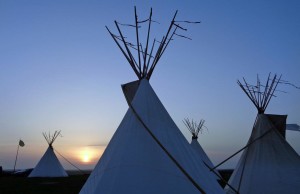 Pierre, SD – The fight to stop TransCanada's Keystone XL Pipeline can add one more state to its battleground: South Dakota. A powerful coalition of local allies has intervened in the certification of the pipeline permit at the South Dakota Public Utilities Commission, and the battle for the open U.S. Senate seat in South Dakota could be decided by voters strongly opposed to Keystone XL.
Four tribal nations and a number of grassroot Native groups, each belonging to the Oceti Sakowin, have petitioned to intervene. Those tribes are the Cheyenne River, Rosebud, Standing Rock, and Yankton Sioux Tribes. Dakota Rural Action, the Indigenous Environmental Network, and several South Dakota landowners have also petitioned to intervene. This coalition is comprised of tribal nations, non-profit organizations, individual tribal citizens and non-tribal landowners; each dedicated to the protection of Mother Earth and the natural resources of South Dakota and is called No KXL Dakota.
TransCanada has opposed the intervention of several applicants to party status, including the Intertribal Council on Utility Policy and the Rosebud Sioux Tribe Utility Commission Office, both Native entities dealing with energy issues in South Dakota. The Public Utilities Commission will decide Tuesday, October 26 at 11:00am CT who will be approved as a party.
This high-profile pipeline battle has intensified with the South Dakota congressional race. Republican candidate Mike Rounds is the only candidate fully endorsing the pipeline, while Democratic opponent Rick Weiland has gained local support because of his opposition to Keystone XL and Independent Larry Pressler has also courted the Native vote.
No KXL Dakota allies have pledged to stand their ground and not back down in the now-local battle over property, land, water, human trafficking, and treaty rights.
Contacts: Dallas Goldtooth, Indigenous Environmental Network Organizer: (507) 412-7609
Faith Spotted Eagle, Ihanktonwan Protect the Sacred: (605)481-0416
Paul Seamans, Dakota Rural Action Board Chair: (605)280-7546
Lewis Grassrope, Wiconi Un Tipi Lower Brule Organizer: (605)208-0606
Supporters: Pte Ospaye Cheyenne River Spirit Camp
South Dakota Peace and Justice Center
Rosebud Sioux Tribe Utility Commission Office
Contact Quotes:
Paul Seamans, Dakota Rural Action: "The PUC treated people involved in the KXL permit hearing in 2009/2010 with much respect. They listened to us, were fair with us, and added 50 conditions to the permit, due in large part to the testimony of concerned citizens. I expect things to be no different this time."
Faith Spotted Eagle, Ihanktonwan Protect the Sacred: "At a time when North American is reeling from violent acts, we cannot forget about violent acts against the environment. Our water is already polluted and we are at a tipping point for destruction."
Lewis Grassrope, Wiconi Un Tipi: "We are here to ensure that this committee hears our voice on this opposition to the pipeline or any pipeline through these lands. We are only spiritual human beings trying to protect and preserve our rights under natural law. Our concerns are the many problems that will come from this pipeline. Oil spills into our only drinking supply of the Missouri River and the Ogallala Aquifer. The man camps that will be coming if the pipeline is built. The destruction and depletion of lands, water, wildlife, and people. Now after hearing that all we see coming is death to our ecosystem and people."
Joye Braun, Pte Ospaye Spirit Camp: "Pte Ospaye Spiritual Camp mission is stand in opposition to the Keystone XL Pipeline and the social evils that come with Big Oil, to educate the people about the KXL Pipeline, fracking, and the pollution that occurs with oil production. Pte Ospaye Spiritual Camp is located just outside of the Bridger Community on the Cheyenne River Sioux Reservation and 2.2 miles from where the proposed Keystone XL Pipeline proposes to go through. It is a hugely historic area known for centuries as a crossroads for Natives Peoples to travel through on their way to the Black Hills. It is ground zero for the Lakota people fighting this pipeline as it would have to pass through this area first to try and get to the other camps and Nebraska."