Retirement of Seven Coal-Fired Boilers Marks 50,000 Megawatts of U.S. Coal Announced to Retire Since 2010
Tuesday, January 22, 2013
DES MOINES, IA – Today, the Sierra Club and Warren Buffett's MidAmerican Energy Company announced a landmark settlement that requires the Iowa utility to phase out coal burning at seven coal-fired boilers, clean up another two coal-fired boilers and build a large solar installation at the Iowa State Fairgrounds. The announcement also pushes the total amount of coal generation retired or announced to retire since 2010 to over 50,000 megawatts, almost one-sixth of the nation's coal fleet.
In 2012, the Sierra Club notified MidAmerican that it was violating the federal Clean Air Act at its Walter Scott, Riverside and George Neal coal plants, by emitting more pollution than allowed by its permits. Today's settlement filed in federal court in Iowa resolves those allegations. According to the Clean Air Task Force air pollution from these three plants contributes to 45 deaths and 760 asthma attacks annually.
"Clean air, clean water and a booming clean energy economy are part of an Iowa legacy that I am proud to leave for my children and grandchildren," said Pam Mackey Taylor, Chapter Energy Chair of the Sierra Club in Iowa. "Coal's days are numbered here in Iowa. Pollution from MidAmerican's coal-fired power plants causes major health problems in communities across Iowa. Retiring units at these coal plants and installing vital pollution controls at the remaining units will help Iowans breathe easier."
Today's announcement brings the total number of coal plants retired or announced to retire since 2010 to 130 plants and 50,717 megawatts, almost one sixth of the nation's entire coal fleet. In 2009 these coal plants emitted more than 188 million metric tons of carbon pollution the equivalent annual emissions of more than 39 million passenger vehicles. These plants also emitted more than 7,600 pounds of mercury, a potent neurotoxin, and caused 6,000 heart attacks, 60,000 asthma attacks, and 3,600 premature lives annually.
Meanwhile, as coal plants are retired and only one new coal plant has broken ground since November 2008, the United States is also installing record amounts of clean energy. During President's Obama's first term the nation doubled its installations of wind and solar, and in 2012 the US installed more wind and solar than coal, gas or nuclear power, with both wind and solar having their best year ever. In mid-2012 the United States hit the milestone of 50,000 megawatts of wind generation installed, producing enough electricity for 13 million American homes.
"This is great news for the people of Iowa and another important victory for the Beyond Coal campaign. The retirement of these plants means our campaign has achieved an important milestone: we have helped retire more than 50,000 megawatts of coal power, while also bringing online more than 50,000 megawatts of wind energy. Iowans are joining a growing number of citizens around the country who are helping to end our nation's dependency on coal and move the U.S. toward a cleaner energy future," said Michael R. Bloomberg, whose Bloomberg Philanthropies has contributed $50 million to the Sierra Club's Beyond Coal campaign.
"Today's settlement marks an important national milestone to end the scourge of coal, as well as an important milestone in our ongoing discussion with the Warren Buffett family of companies about combating climate disruption," said Bruce Nilles, Senior Director of the Beyond Coal campaign.
Some parts of Mr. Buffett's empire are leaders in their fields, such as MidAmerican Renewables and its purchase early this month of the 579 megawatt Antelope Valley project in California. Similarly, MidAmerican Energy Corporation is the largest owner of wind installations among rate-regulated utilities in the nation.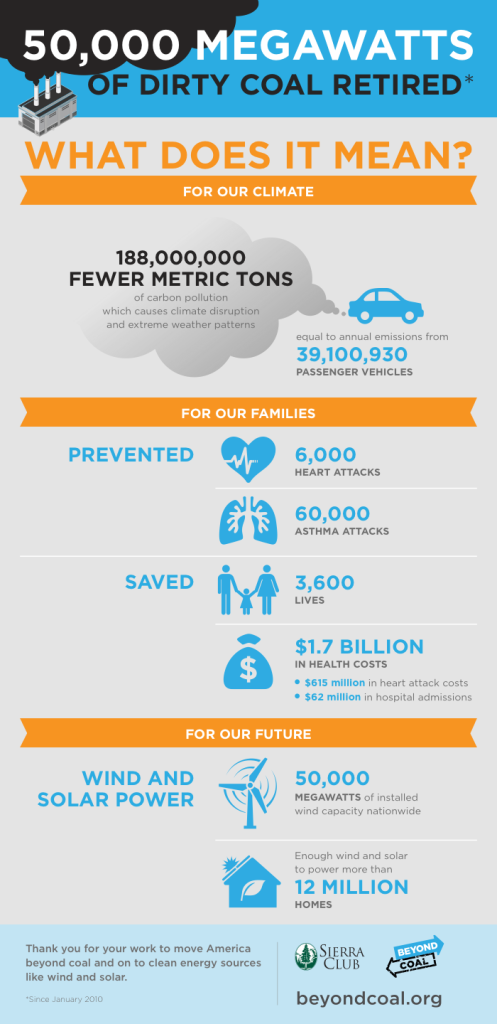 However, Nilles also took aim at two other parts of Mr. Buffett's holdings, his western utility, Pacificorp, that owns and operates six existing coal-fired power plants and Mr. Buffett's BNSF, the largest hauler of coal nationwide. "Pacificorp continues to be a laggard on clean energy and BNSF is one of the very worst actors when it comes to lobbying and promoting expanded coal use nationally and internationally," Nilles said. "Over the coming months we will be stepping up our engagement with Paciforp and BNSF to urge them to follow the examples of other forward-looking parts of Mr. Buffett's holdings."
Tapping into the Sierra Club's 2.1 million members and supporters, its Beyond Coal campaign is working across the United States to end coal burning no later than 2030, replace coal-fired power plants with clean energy like wind and solar power, and keep the massive U.S. coal reserves underground and out of world markets. It is the largest campaign in the organization's 114-year history, and employs more than 170 staff members who collaborate with thousands of activists and more than a hundred allied organizations nationwide. With a relentless focus on moving the country off of coal fired power, the campaign is engaged in more than a hundred venues, including the courts, regulatory agencies, and in communities where decisions about coal mining and coal use are being debated. This includes working with workers and communities to help them transition to clean energy jobs when local coal plants are retired.
The settlement can be viewed here.
Contact:
Emily Rosenwasser, Emily.Rosenwasser@sierraclub.org, 720-308-6055
Eitan Bencuya: eitan.bencuya@sierraclub.org, 202-495-3047