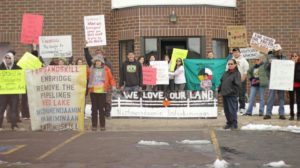 Bemidji, MN— In a David vs. Goliath fight, David took the fight to Goliath.  At 1:05 pm, Wednesday, April 10, 2013.  Thirty people including; members of the group Nizhawendaamin Indaakiminaan (We Love Our Land), tribal members from Red Lake, members of other native communities, and non-natives joined forces and peacefully protested and engaged in civil disobedience, resulting in the arrest of Angie Palacio, a Red Lake Member and mother of four.
Red Lake members have been taking on Enbridge Energy for the past 42 days on 8.5 acres of land belonging to the Red Lake tribe near Leonard, MN.  Nizhawendamin Indaakiminaan contends that Enbridge has been illegally trespassing on Red Lake land since 1949, and they are demanding that the oil stop flowing and the pipelines be removed from the reservation lands immediately.  In August of 2012, Red Lake Tribal Chairman, Floyd "Buck" Jourdain, sent Enbridge a "Cease and Desist" letter stating the same requests, yet Enbridge has refused to acknowledge either demand.
Enbridge was served with an eviction notice, citing the Red Lake tribal court trespassing laws, by the protesters on April 10, 2013.  The demand was made that they cease all flow of oil within the pipelines and remove the pipelines on Red Lake property. "Enbridge has been trespassing on our lands for 64 years," Palacio stated, "I am willing to be arrested for trespassing on their land, to prove a point to this arrogant company."
Ms. Palacio was arrested after three and a half hours locked to the front entrance of their Bemidji offices.  Enbridge refused to have her removed and arrested until the end of their business day.  An Enbridge official, Becky Haase, was quoted in the Bemidji Pioneer newspaper, "We respect the rights of these folks to express their views and discuss their opinions about our business." The group, however, feels that the company did not want to arrest Ms. Palacio for the fact that they are knowingly trespassing on the Red Lake lands and continue to make money everyday the oil flows through the lands.  David Manuel, Red Lake Enrollee, stated, "These pipelines need to be shut off and removed immediately."
"This protest was not only about the four illegal pipelines," according to Marty Cobenais, Red Lake Tribal member and Indigenous Environmental Network, Pipeline Organizer, "we are protesting to show solidarity with several serious issues involving the Tar Sands."
This protest also is in solidarity with relatives North of the US / Canada border.  Enbridge's Line 4 pipeline, currently carries Alberta Tar Sands Diluted Bitumen (DilBit).  "These pipelines carry blood oil from the dirty tar sands in Alberta, we can be Idle No More," Dawn Goodwin, White Earth Enrollee, stated, "Tar Sands are killing the people, land, water, animals and their way of life. (Genocide)"
The ExxonMobil Pegasus Tar Sands oil pipeline (built in 1948) that ruptured in Mayflower, Arkansas is very similar to Line 1 on the Red Lake lands. Line 1 was built in 1949 by Lakehead, which was the U.S. base of operations for Canada's Interprovincial Pipe Line Co. (IPL – owned by Exxon predecessor Standard Oil of New Jersey).  Lakehead  built additional illegal pipelines on the Red Lake Lands in 1958 (line 2), 1962 (line 3), and 1972 (line 4). In 1998, IPL changed its name to Enbridge.  These four pipelines carry approximately 1.2 million barrels of oil per day.
Enbridge is currently seeking permits and has applied for a Presidential Permit to expand the Alberta Clipper (line 67) Pipeline from 450,000 barrels per day to 570,000 per day. However, the Presidential Permit would only be seeking permission from the Canadian Border to the first shut off valve in the United States.  This could be from 1-20 miles in length.  This expansion is required by Enbridge for all their planned pipeline expansions and reversals to get DilBit export pipelines to Portland, Maine and Houston, Texas.
"These illegal pipelines have been on our tribal land for 64 years, and Enbridge does not care that they are trespassing.  We need help from our political leaders in St. Paul and Washington DC to force Enbridge to shut down these illegal  pipelines and have them removed from Red Lake Lands immediately." stated Cobenais.
For more information please contact Marty Cobenais, (218) 760-0284, martyc@ienearth.org