Enbridge wants to reverse flow of pipeline, ship more crude through it
Canadian press November 30, 2012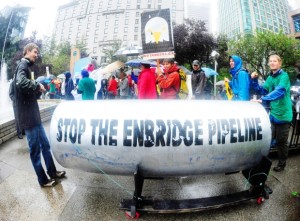 MONTREAL — A number of environmental groups are warning that a proposal to bring Alberta oil to Quebec through Ontario is just one step toward creating an eastern route for exports to New England.
Enbridge Inc. filed papers on Thursday seeking regulatory approval to reverse the flow of a Quebec-to-Ontario oil pipeline and ship greater volumes of crude through it.
The Calgary-based pipeline giant announced Thursday it has applied to the National Energy Board to reverse a stretch of its Line 9 pipeline that currently runs from Montreal to Westover, Ont.
It also wants to increase the line's capacity from 240,000 barrels per day to 300,000 barrels per day.
However, a group environmentalist organizations that have been arguing Enbridge wants to create an eastern export route for "dirty oil" from Alberta, said Friday that they view the pipeline reversal as a preliminary step in that plan.
"With this application, the evidence becomes overwhelming that oil companies are planning to send tarsands through Eastern Canada, Quebec and New England," the groups said in a statement Friday.
Patrick Bonin of Greenpeace said in the statement that "Quebec cannot count on the Harper government, Alberta or the National Energy Board when it comes to the environment, and must refuse this project for the common good of Quebecers."
The groups say they don't believe Enbridge's assurances that it has no plans for creating an eastern export route and that the "the full reversal of Line 9 is almost certainly a precursor to a reversal of the Portland-Montreal Pipeline "
Line 9 flowed from west to east when it was built in the 1970s, but it was reversed two decades later to respond to market conditions at the time. Now, Enbridge wants to restore its original flow so that eastern refineries can have access to western crude.
During the summer, the NEB gave Enbridge the green light to reverse a segment of Line 9 between Sarnia, Ont., and Westover, which is close to Imperial Oil's (TSX: IMO) Nanticoke refinery.
The application announced Thursday covers the remaining stretch to Montreal, where Suncor (TSX: SU) has a refinery.
Eastern refineries currently rely on crude imported from overseas, which is more expensive than oil that comes from Western Canada. It's one of the reasons gasoline prices are much higher in the East than they are the West, though there are many other factors at play.
A lack of adequate pipeline capacity has meant Alberta crude hasn't been able to find its way to the most lucrative markets, leading to a supply glut that has depressed prices and eroded producers' profits.
Enbridge says the environmentalists' claims are "false."
"The market demand driving the Line 9 reversal projects, from Ontario and Quebec refiners, is for light crude oil, which is generally sourced from regions other than the Canadian oilsands," it said.
"However, crude oil derived from the oilsands region of Canada, sometimes called diluted bitumen or dilbit, could also be shipped on Line 9."
Enbridge added that dilbit is safely shipped every day through pipelines across North America.
"Decades of transporting heavy crude proves there is no evidence that pipelines transporting this product are more susceptible to internal corrosion than pipelines transporting other crude oil types."
© Copyright (c) The Montreal Gazette