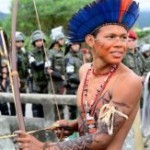 AFP – World leaders were elbowed out of the spotlight at the Earth summit on Thursday as civil society blasted corporate capitalism and political compromise while celebrities clamored for an Arctic sanctuary.
On its penultimate day, UN chief Ban Ki-moon defended the Rio+20 conference — the first summit on sustainable development in a decade — as "the beginning of a journey that will lead to a more sustainable future for ourselves and for generations to come."
But the summit came under fire from the leftist presidents of Bolivia and Ecuador, along with indigenous peoples, who said capitalist greed lurked beneath its promotion of the green economy.
Bolivian President Evo Morales described the green economy as "a new colonialism" that rich nations sought to impose on developing countries.
"Countries of the north are getting rich through a predatory orgy and are forcing countries of the south to be their poor rangers," he said.
"They want to create intervention mechanisms to monitor and assess our national policies using environmental concerns as an excuse."
Morales, Bolivia's first indigenous Aymara president, also pressed African countries to protect their mineral wealth from transnational companies.
In an interview with AFP, President Rafael Correa of Ecuador accused rich countries of "looting the planet, consuming environmental assets freely."
And indigenous peoples gathered for a counter-summit issued a declaration which described the green economy as "a crime against humanity and the Earth" by dollarizing nature and stripping communities of their rights.
Meanwhile, Greenpeace announced that ex-Beatle Paul McCartney, actress Penelope Cruz and director Robert Redford joined a campaign for a "global sanctuary" around the North Pole.
They are among the first 100 names on a planned million-signature scroll that the green group wants to place on the seabed beneath Earth's northernmost point.
The spot will be marked with a "Flag for the Future" designed by children in a global competition organized by the Girl Guide movement.
Its goal is to counter nationalist claims on the North Pole and preserve the heart of the Arctic Ocean from a carve-up for resources.
"The Arctic is coming under assault and needs people from around the world to stand up and demand action to protect it," said Kumi Naidoo, Greenpeace's executive director.
"A ban on offshore oil drilling and unsustainable fishing would be a huge victory against the forces ranged against this precious region and the four million people who live there."
British tycoon Richard Branson and "Warrior Princess" actress Lucy Lawless added a sprinkle of glitz to the launch.
"It seems madness that we are willing to go to the ends of the Earth to find the last drops of oil when our best scientific minds are telling us we need to get off fossil fuels to give our children a future," McCartney said in a statement.
"At some time, in some place, we need to take a stand. I believe that time is now and that place is the Arctic."
The shrinkage of Arctic ice through global warming has led to jostling over sea routes and access to the sea bed, which is believed to be rich in hydrocarbons and minerals.
At Friday's close, the 190-nation summit is due to endorse a lengthy statement of vows to tackle Earth's worsening environmental problems and entrenched poverty.
But green activists and campaigners for poverty alleviation slammed the draft as gutted of ambition.
"The failure of Rio+20 is a call for action which will give the people more energy to mobilize in the future," said Greenpeace political director Daniel Mittler, who called the summit an "epic failure."
WWF International's executive director Lasse Gustavsson noted that "it takes 18 months for nature to regenerate what we use in 12."
"We are losing species hundreds, maybe a thousand times faster than natural evolution. We are creating a huge ecological debt. It's payback time," he added.
"After two years of sophisticated UN diplomacy, we arrive with something that will give us nothing but more poverty, more conflict and more environmental destruction."
Original Article Posted Here: http://www.france24.com/en/20120621-protests-appeals-sideline-politicians-rio20-meet