Navajo Tribal Members Demand Just Transition to a Sustainable Economy
For Immediate Release
April 14, 2016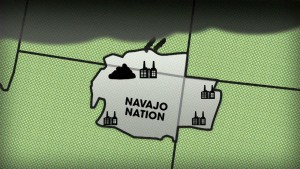 Navajo Nation, AZ – The nation's largest coal company, Peabody Energy Corporation, filed for Chapter 11 bankruptcy protection Wednesday as the coal industry grapples with the fallout of low natural gas prices and the increased enforcement of federal regulations. Peabody has ownership stakes in 26 mines in Australia and the U.S. including the Kayenta Mine located in the Black Mesa region of the Navajo Nation. This declaration of bankruptcy has many Navajo communities asking what this means in terms of Peabody's responsibility to workers, health care and the clean up the region's land and water, and transition its economy.
It's telling to witness the various Navajo responses to Peabody's bankruptcy filing," said Jihan Gearon, Executive Director of the Navajo non-profit Black Mesa Water Coalition (BMWC). "Some people are celebrating it as an indicator of the potential shutdown of the Kayenta Mine and an end to the coal complex's contamination of the environment and people's health. Others are worried about the potential loss of jobs and impact to the Navajo Nation's economy. Yet everyone is calling for a commitment from Peabody and government leaders to meet its obligation to clean up and to support a just transition to a new economy."
"Before Peabody's bank accounts went bankrupt, they had already bankrupt the natural state of my homelands, depleted and contaminated our sole drinking water source, desecrated sacred sites and disrupted our obligation to take care of our mother earth. Obviously Peabody's business model is bankrupt at every turn," says Navajo tribal member and BMWC's Black Mesa Solar Project Manager Wahleah Johns.
"None of us should be surprised that Peabody filed for bankruptcy," says Enei Begaye, BMWC founder and board member. "The decline of coal has been forecasted for decades, which is why BMWC began focusing on economic just transition efforts over 15 years ago. I'm not worried about Peabody's executives, if we learned anything from the 2008 bank bailouts it's that the company and their executives usually walk away from a crash unscathed.  But will the Navajo people and our fledgling economy ever get a bailout of this economic coal pit?"
BMWC in partnership with several other organizations has worked for years to further a fair and equitable just transition for Black Mesa communities and the Navajo Nation.
After the shutdown of the Mojave Generating Station (MGS) and Black Mesa Mine in 2006, BMWC and others created the Just Transition Coalition whose work culminated in February 2013. The California Public Utilities Commission voted to use revenues from the sale of sulfur dioxide allowances from the shutdown MGS to create a revolving fund at 4.5 million a year to pay development deposits for renewable projects that benefit the Hopi Tribe, Navajo Nation and California ratepayers.
In 2009 BMWC established the Navajo Green Economy Fund and Commission within the structure of the Navajo Nation tribal government, the first green economy legislation passed by any tribal government. Its aim was to draw in federal funds to support a just transition and to empower the tribal government to envision and begin creating a more sustainable and just economy.
In 2011 BMWC was one of the co-founders of a Navajo green business incubator which today has developed into the Native American Business Incubator Network
BMWC has completed various research projects that prove the viability of a sustainable economy. Read our findings here: http://blackmesawatercoalition.org/resources/
BMWC has piloted three projects, which both prove the viability of, and demonstrate the potential for an economy that builds on Navajo culture and strengths, and prioritizes sustainability and justice. These are the Black Mesa Solar Project, Navajo Wool Market Improvement Project, and Food Sovereignty Project.
"Everyday Navajo community members are working to make the shift to a clean economy, I have been working with many tribal solar advocates for years and the Navajo solar future is brighter than ever. But it has been difficult to fully embrace the solar future because our tribal government has been tied to a sinking coal market," says Wahleah, who is also a Navajo Nation Green Economy Commissioner. "I believe solar investments are one big way we will be able to take care of our homeland while taking care of our people."
"Peabody's bankruptcy demonstrates the mountain of instability and short-term thinking associated with speculative markets", states Roberto Nutlouis, BMWC's Restorative Economy Program Coordinator. "As Navajo people, our culture tells us that our traditional economy and the intricate environmental and social systems they uphold is what will really last."
"Peabody's bankruptcy shows us that transition for the Navajo Nation has already begun," continues Jihan. "It's up to us as Navajo people to determine how that transition will happen and what it will create. The Navajo Nation must take decisive steps away from this unstable fossil fuel economy and implement a just transition plan towards a sustainable economy now more than ever."
###
Media Contacts:
Jihan Gearon
Executive Director
Black Mesa Water Coalition
(928) 380–6684
Wahleah Johns
Black Mesa Solar Project Coordinator
Black Mesa Water Coalition
(928) 637–5281
Hear more from our partners and allies at: http://www.ourpowercampaign.org/press-release-peabody-just-transition/