For Immediate Release
May 8th, 2015
#NoKXL Protest Rally During President Obama's Visit to South Dakota
Tribal Citizens Ask Obama to Protect Mother Earth and Reject KXL
Contacts:
Dallas Goldtooth, 507-412-7609; ienpipeline@igc.org
Aldo Seoane, 605-319-8151; aldoseoane@gmail.com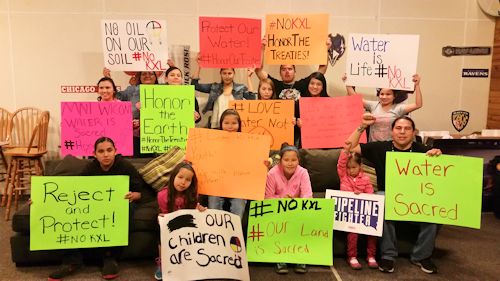 Watertown, SD – Today, tribal citizens of the Oceti Sakowin, aka the Great Sioux Nation, will be holding a #NoKXL rally across the street from where President Obama will be delivering a commencement speech to the Lake Area Technical Institute graduates in Watertown, SD.
This will be the first time President Obama will visit South Dakota during his term in office and local grassroots leaders from South Dakota would wish to encourage the President to recognize the local fight against the Keystone XL pipeline and reject it's presidential permit immediately.
"The tribal nations and people of South Dakota stand resolute in their objection to the construction of this dirty tar sands pipeline" said Dallas Goldtooth, KXL pipeline organizer for the Indigenous Environmental Network.
"The President is coming to South Dakota and we will be there. Grassroots leaders, native and non-native, encouraging Obama to take a great step towards creating a lasting climate legacy and reject the Keystone XL pipeline."
President Obama has said "Change will not come if we wait for some other person or some other time. We are the ones we've been waiting for. We are the change that we seek."
"So Mr. President that is why we are here today. We are seeking an opportunity to be heard. We are here seeking your help to stop Keystone XL and to protect the women and children of our communities," said Greg Grey Cloud, Co-founder of Wica Agli.
The #NoKXL rally will be in Belmont Park, C Ave Ne and 9th St NE, from 12pm – 7pm central time.
###