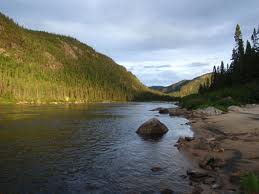 The Department of Fisheries and Oceans has no formal plans to consult with stakeholders on new regulations or partnerships to prevent industrial pollution after major changes to environmental protection laws were adopted last summer, says newly released internal correspondence obtained by Postmedia News.
Despite pledging to develop new regulations and partnerships to protect Canadian waterways when it implemented the changes to Canada's Fisheries Act and other legislation, the department is unable to provide any timelines or details of its progress, nearly six months later
A department spokeswoman, Melanie Carkner, told Postmedia News it was continuing discussions with a "variety of stakeholders," and that new regulations "should be published at the same time as the final amendments to the Fisheries Act come into effect."
The latest changes to the legislation are expected to be adopted by the Senate this month, following changes from July that removed federal protection of fish habitat, shifting the focus toward protecting commercial, recreational or aboriginal fisheries.
Fisheries Minister Keith Ashfield, who is temporarily on medical leave, touted the new legislation last spring, noting it gives the Harper government new tools to authorize industrial water pollution.
The government also indicated it could subsequently use standards developed by industry associations to guide its efforts, provided they meet "strict requirements" for fisheries protection.
But conservation groups are concerned about the environmental impacts of the legislation and budget cuts, noting the government isn't actively following through on its commitment to work with them on new partnerships.
Craig Orr, an ecologist and executive director of Watershed Watch Salmon Society, said groups have "struggled" to get information on where the legislation is going.
"The problem is they're just putting it off and putting it off, and we just need to see something concrete for some kind of consultation on the details," said Orr, who is also part of a Pacific region caucus consulted by the department. "The changes seem to be announced at a breakneck speed but the public is not being engaged … and they just don't know when the engagement is going to happen and whether it's going to be done in a meaningful way."
Orr said a senior official at the department – in charge of its "transformation" – told him it hasn't confirmed any engagement plans and was not anticipating any major workshops or gatherings with stakeholders.
"I do expect that we will engage folks in bilateral meetings and perhaps in the context of the regulatory process," wrote Trevor Swerdfager, assistant deputy minister of transformation in a Nov. 21 email to Orr. "Other than that, we do not have a large formal process planned."
Other internal emails, obtained by Postmedia News through access to information legislation, reveal that department officials were uneasy about a reporter asking questions and "really latching on to this partnerships thing."
"Is there anything else we can say about it at this time, or can we simply tell him that the 'how' will be developed through policy and regulations over the coming months?" wrote Alain Belle-Isle, a manager of public affairs and strategic communications in a June 28 email to other department officials.
"I think we need to be clear with him about what this means. He'll keep coming until he gets an explicit answer."
Fisheries and Oceans Canada was unable to answer several followup questions from Postmedia News sent last Wednesday about the nature of Swerdfager's role in "transforming" the department or about consultations and partnerships with conservation groups.
Carkner said there were delays in getting answers because of a high level of illnesses within the department last week.
Orr said he has spoken to some Fisheries and Oceans employees who are troubled by recent cuts to resources and personnel responsible for habitat protection.
"There's a huge amount of angst and depression in the department over this whole issue of habitat protection," Orr said.
The changes also provoked confusion between Environment Canada and Fisheries and Oceans officials in the summer as each asked the other to explain Ashfield's comments in a letter that touted the need for new tools to authorize water pollution.
"We are not certain which 'new tools' are being referred to in the letter," said Environment Canada spokesman Mark Johnson in an internal email sent to his counterpart, Carkner, at Fisheries and Oceans on June 28.
Johnson had suggested one day earlier that the Fisheries Department should ask their minister, Ashfield, to explain his comments.
"I'm sure you see how it would seem bizarre that EC should clarify a statement made by Minister Ashfield," he wrote. "Please advise."
Read breaking news on your mobile device at vancouversun.com
© Copyright (c) The Vancouver Sun
By Mike De Souza, Postmedia News