By Laura Zuckerman
SALMON, Idaho | Tue Aug 6, 2013 9:31pm EDT
(Reuters) – Police arrested 19 members of the Nez Perce Tribe on Tuesday on suspicion of disorderly conduct for refusing to break a human chain blocking a highway in Idaho in protest against a 322-ton load of equipment bound for the tar sands of Alberta, Canada.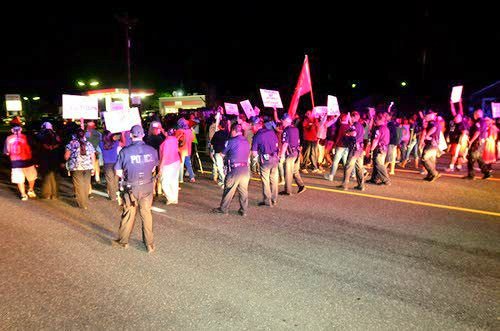 The blockade by more than 250 mostly Native American protesters halted travel of a so-called megaload for two hours on a scenic roadway at the front lines of an ideological struggle over North American oil and gas development and its impact on the environment, local communities and native cultures.
The Nez Perce said they staged the protest to oppose the shipment of massive oil refinery equipment along wild stretches of two prized Idaho rivers, the Clearwater and the Lochsa, and through Nez Perce and protected federal lands.
The 19 Nez Perce activists who were arrested by tribal police on Tuesday were later released on bail, authorities said. The megaload resumed its journey after the protest.
Nez Perce Chairman Silas C. Whitman said in a statement that tribal leaders were against "the conversion of this wild and scenic area into a high and wide industrial corridor."
The load, which measures 255 feet long, 21 feet wide and 23 feet tall, is one of two planned shipments by an Oregon hauling company, Omega Morgan, of a water purification unit being trucked to Alberta production fields, according to an Idaho transportation permit issued on Friday.
The route along U.S. Highway 95 and U.S. 12 follows a historic trail broken by early Nez Perce bison hunters and used in the early 19th century by Meriwether Lewis and William Clark on a government-sponsored expedition that charted the newly purchased American West.
Megaload opponents say the oversize trucks may impair the visual and ecological values of the trail and a river corridor that supports threatened steelhead and Chinook salmon and fuels a tourist economy tied to rafting, fishing, camping and hunting.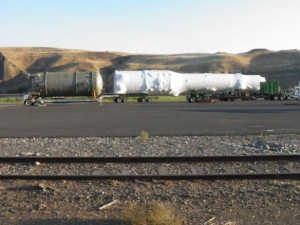 The Omega Morgan load, which will take four nights to cross Idaho into Montana, was approved by Idaho over the objections of environmentalists and despite U.S. Forest Service concerns.
"This is a quiet, winding mountain highway through a beautiful river canyon, not an industrial park," said Kevin Lewis, conservation director of Idaho Rivers United.
The Forest Service had sought to stop the shipment pending a study of its social, economic and ecological impacts.
Omega Morgan spokeswoman Olga Haley said an Idaho permit allowed the shipment to proceed but declined further comment. Clearwater County Commissioner Don Ebert supported the shipments.
"What are we going to stop next? We have to have commerce in this country," he said.
(Editing by Cynthia Johnston and Mohammad Zargham)