Frank O. Welch
President
Rockford Corporation
22845 North West Bennett Street
Hillsboro, Oregon 97124
Sent by fax:  503-647-0226
President
Primeria Corporation (PSC)
2100 McKinney Avenue   Suite 1540
Dallas, Texas 75201
Sent by fax:  214-740-9440
Ms. Jena S. Mier
Environmental Project Manager
Florida Southeast Connection
700 Universe Blvd.
Juno Beach, Florida 33408
Sent by mail.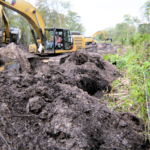 My Name is Shannon Larsen, I am a 4th generation Floridian.  I am outraged at the desecration being perpetrated by Rockford Pipeline Corporatio/PSC in Florida.  I am sickened by the irreversible destruction of our Lands, Waters, and Wildlife.  We have something called wetlands in Florida, and they are precious to us as they are the cooling system in Florida and provide a necessary habitat for many species.  Our Waters we cherish and our Lands we have sought to steward in a manner that insures that the next generations may enjoy what we have, and that the wildlife have places to call home as well.
You Rockford Pipeline Company/PSC, Florida Power and Light, NextEra Energy. Inc., Florida Southeast Connection, LLC, FERC, FDEP, USACE,   must be held accountable for the desecration, destruction, and damage to our Waters, Lands, Wetlands, Trees, Plants, and Animals.  I personally hold you all guilty of Crimes against Nature.  The Eco-Genocide of Natural Areas, Natural Systems and Wildlife in Florida.
Nature does have Rights, the same as we do, and you have grossly violated the Rights of Nature and you must be tried by the People for your crimes against Nature.

Rights of Nature
"Ecosystems have and are entitled to  their Rights just as Human Beings have.
Nature in all of its life forms  has the right to exist, persist, maintain, and regenerate its vital cycles.
We have the legal authority and responsibility to enforce the Rights of Nature in law on behalf of ecosystems.
The Ecosystem itself can be named as a right bearing subject with standing in a court of law. "
.I have attached my eye witness photographic report of Crimes committed against Nature  by the above mentioned, and represent Fort Drum Creek in Okeechobee County, Florida as a right bearing subject with standing in court of law.  You have changed a Waterbody, its surrounding wetlands forever, and have murdered innocent creatures without cause.  We the people hold you all guilty as charged.
On behalf of Ft. Drum Creek, this 21st day of November 2016.
Shannon Larsen
Co-Founder
Ancient Trees
P.O. Box 1452
Lake Placid, FL. 33862
Ancientrees@hotmail.com
904-654-0200