FOR IMMEDIATE RELEASE: Friday, May 1, 2015
Contact: Valeriah Big Eagle, Rally Organizer: (605)651-9555
Tony Helland, Rally Organizer: (605)496-2294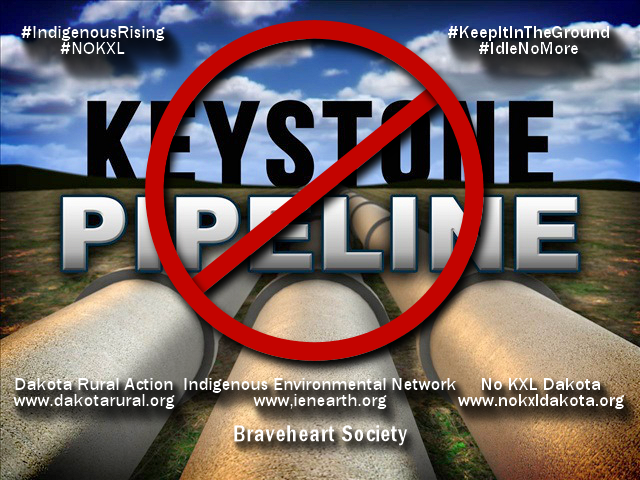 Sioux Falls, SD – Today, a rally organized by Dakota Rural Action and the Indigenous Environmental Network will call on President Obama to outright reject the Keystone XL Pipeline permit. One week prior to the President's arrival in South Dakota, the crowd of Native and Non-Native people will gather in downtown Sioux Falls, at the intersection of Minnesota Ave and 11th Street, under the banner of "Not on our hands, not on our lands," at 3:30pm CST.
President Obama has yet to make a decision on the national Presidential Permit, filed by Keystone XL's Transcanada Corporation in May 2012. The pipeline company is also currently seeking a South Dakota state permit certification for the construction of its flagship pipeline. The South Dakota Public Utilities Commission recently announced the postponement of the Keystone XL permit hearing, originally scheduled for May 4th to the new dates of July 27-31 and August 3-4, 2015. With the South Dakota process delayed, the President has the opportunity to act now to deny the presidential permit.
Valeriah Big Eagle, a young organizer for No KXL Dakota said, "Obama will be in South Dakota next Friday, I want him to know how important this issue is to us South Dakotans. We do not want Keystone XL here and are asking him to presidentially reject the permit now. The postponement of the Keystone XL hearing gives him the perfect time to outright reject the permit once and for all."
Dakota Rural Action, Indigenous Environmental Network, No KXL Dakota, Braveheart Society, and other pipeline fighters will continue to fight against the KXL until the permit is denied.
###
The Indigenous Environmental Network is an international environmental justice non-profit that works with tribal grassroots organizations to build the capacity of Indigenous communities. www.ienearth.org
Dakota Rural Action is a grassroots family agriculture and conservation group that organizes South Dakotans to protect our family farmers and ranchers, natural resources, and unique way of life. www.dakotarural.org
No KXL Dakota is a cross-cultural coalition of South Dakota citizens against the construction of the Keystone XL pipeline and other Tar Sands infrastructure development. www.nokxldakota.org
Braveheart Society strives to enhance and preserve the Dakota/Nakota/Lakota culture for coming generations, with a strong foundation of values, morals, and worldview.