PRESS ADVISORY:
November 13, 2015
Contact: Dallas Goldtooth, 708-515-6158, ienpipeline@igc.org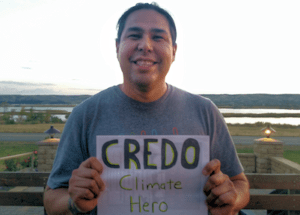 Bemidji, MN – Dallas Goldtooth, a grassroots organizer who works for the Indigenous Environmental Network has been selected by CREDO Mobile to receive a grant of up to $500 for his work to support Indigenous grassroots campaigns against oil development and infrastructure in frontline communities.
The grant was part of CREDO's Climate Heroes program, which is distributing more than $30,000 to 63 individuals and local organizations working to protest, blockade and confront the fossil fuel industry and fossil fuel friendly politicians nationwide.
When asked how he plans to use the money, Dallas Goldtooth states: "To be honest, I plan to use this money to pay some bills and make sure my kids don't starve. As organizers we strive to support our communities as they accomplish tremendous acts of change. It is a beautiful, time-consuming job that often incurs the stress to provide for one's own family. I see this CREDO award not just an affirmation of my work as an organizer, but an affirmation of my want to be a decent father, partner, and relative as well."
You can read CREDO announcement and awardees list here: https://medium.com/@CREDOMobile/meet-the-credo-climate-heroes-daf4601fa972
If you have any questions about CREDO's Climate Heroes program, please contact Josh Nelson at jnelson@credoaction.com. Please check out www.ienearth.org and www.IndigenousRising.org for more info on Indigenous Environmental Network. You can also follow Dallas on twitter: @g0ldtooth and instagram: dallasgoldtooth
Thank you for your time.
###