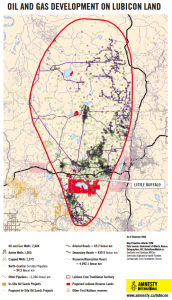 Little Buffalo, AB – In solidarity with actions across the country today, the Government of the Lubicon Lake Nation will set up multiple checkpoints throughout the oil and gas fields which are contained within their Traditional Lands. The Lubicon have made it clear, that this demonstration of sovereignty and exercise of jurisdiction is peaceful in nature and should not be misconstrued as a "blockade". However, this morning, the Government of the Lubicon Lake Nation provided notice to Oil and Gas exploration companies operating within their Traditional Lands known as "the Teardrop" that the Nation would be delaying traffic throughout the oilfield to get their message out and a warning to oil companies that it could get worse.
"We're not out blocking the roads and shutting things down, we're not at that point." said Councillor Bryan Laboucan of the demonstration. "All we're doing here today is taking a few minutes to talk to people visiting our territory whether for work or just passing through and educate them on our situation."
The Lubicon Lake Nation remains without a Treaty or Land Rights Settlement with the Canadian Crown. According to the Canadian Constitution, the Government of Canada is required to enter into Treaty with any First Nation in order to extinguish the Aboriginal Title to the First Nations' land. If the Crown has not done so, clear title cannot be transferred to Canada or the provinces.
This has not stopped the Government of Alberta from issuing thousands of oil and gas leases and licences for resource extraction within Lubicon borders. This extraction continues largely without the consent and involvement of the Lubicon and our community remains one of the poorest in the province, with inadequate infrastructure despite the 14 billion dollars of oil and gas that has been removed from Lubicon lands.
Chief of the Lubicon Lake Nation, Bernard Ominayak gained international notoriety throughout the last 30 years for his strong stance against development of Lubicon lands and Federal and Provincial interference. During demonstration preparations the Chief said "It is time for industry to recognize that we are awake, and we're not going to let this type of exploitation continue around us without serious changes."
Contact Info:             Garrett Tomlinson – Communications Coordinator
Lubicon Lake Nation
TEL (780) 618-3794
Consultation@LubiconLakeNation.ca