FOR IMMEDIATE RELEASE
June 22, 2021
Press Contact: Jennifer K. Falcon 
Photos & Video Clips here
Line 3 Frontline Tensions Escalate as Pennington County Police Bring Attack Dogs to Red Lake Treaty Camp and Threaten Eviction
(Red Lake Treaty Camp, MN) — Today, one person was tackled and suffered injuries while being arrested for trespassing as Enbridge continues to drill for the Line 3 pipeline near the Red Lake River without a tribal monitor. Things continue to escalate with the Sheriff showing up with dogs at the site. The last time this tactic was used water protectors were hurt at Standing Rock. Enbridge has continuously ignored the law and done work without a tribal monitor present. As of 5 pm eviction threat still remains intact but the Red Lake Treaty Camp is prepared to hold their ground and defend the Old Crossing Treaty of 1863.
"Forcing tribal members to confront a police attack dog is not only reminiscent of the worst era this country has lived through, it is illegal," said Red Lake Nation Tribal Secretary Sam Strong. "Authorities bringing a dog to terrorize water protectors? This is a traumatic replay of what happened at Standing Rock."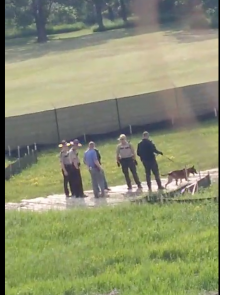 (Photo from Indigenous Environmental Network)
The Red Lake Tribal Council recently appointed tribal member Sasha Beaulieu to serve as the Band's Tribal Cultural Resource Monitor with respect to the Line 3 pipeline construction project. This appointment allows for monitoring and protection of archaeological sites under the National Historic Preservation Act, yet Ms. Beaulieu's appointment has been ignored by Enbridge and she has not been able to monitor their work.
"We need the right representatives in place to protect our land, water, and rice beds," said Sasha Beaulieu. "Enbridge is attempting to transport the dirtiest fossil fuel in the world at the expense of our most sacred food."
"The killing of our wild rice beds is an act of genocide," said Sam Strong. "A strong reminder of when the army killed all the buffalo in the 1800s to starve and remove the tribes from their land."
The Tribal Council previously permitted a Treaty Camp, which is in Pennington County on public land within the territory that was ceded to the United States by the Red Lake and Pembina Bands through the Old Crossing Treaty of 1863. In violation of the Native American Religious Freedom Act, Enbridge has moved forward with construction, interrupting ceremony.
"We will continue to fight for the water, the land and the treaties," said Sasha Beaulieu. " Our future generations depend on us stopping Line 3."