FOR IMMEDIATE RELEASE : Friday, July 24, 2015
CONTACT: Sabrina King, Dakota Rural Action: (605) 9390527
Dallas Goldtooth, Indigenous Environmental Network: (507) 4127609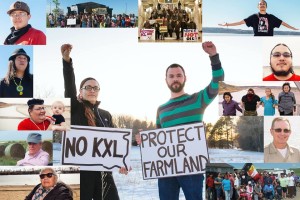 Pierre, SD – On Sunday, July 26, over 60 native and nonnative horseback riders will ride into Fort Pierre from the four directions north, south, east and west to show their collective resistance to the Keystone XL pipeline certification in South Dakota.
Riders will meet with hundreds of people near the intersection of Highway 83 and 14 to lead the march across the Missouri River Bridge, and ending at Steamboat Park in Pierre, where Pipeline Fighters will hold a water blessing and rally. Organized to show the solidarity in opposition to the South Dakota Public Utility Commission's (SD PUC) certification of the Keystone XL pipeline permit, these actions are a culmination of years of collective resistance in South Dakota.
The next day, at 9 a.m., July 27 th , the SD PUC will convene a seven-day evidentiary hearing on whether the conditions on which the permit was issued in 2010 are still the same or have changed.
"We have no doubt that the situation has changed with regards to the taxes and benefits promised to the people of South Dakota by TransCanada," said Paul Draper, a member of the Dakota Rural Action Board of Directors.
"TransCanada has promised huge economic benefits to the counties and if Keystone I is any barometer of them making those promises good, it does not bode well for us. This project poses too much risk to the people, lands and water for it to be approved. I hope the Commissioners listen with open hearts and minds to the concerns we will be putting forth."
"We want to show the SD PUC that there are many, many South Dakotans who opposed to the permit being certified for the pipeline because we don't think the conditions are the same as when the permit was originally issued. There are 30 different changed conditions of the permit which TransCanada themselves acknowledged when they submitted the permit application last year," said Dallas Goldtooth, KXL pipeline organizer for the Indigenous Environmental Network. "Unfortunately, the commissioners have denied any evidence having to do with climate change."
Buses will depart from Rapid City, Sioux Falls as well as reservation communities to arrive in time for the resistance rally. Everyone is welcome and encouraged to join in the march and rally. Members of the public can RSVP for the rally and to reserve a space on a bus at www.nokxldakota.org
Keystone XL Resistance Ride and March Details:
DATE : Sunday, July 26, 2015
TIME : March begins at 11amMT/12pmCT
LOCATION : March begins at the intersection of Highways 83 and 14 in Fort Pierre and will end at the amphitheater at Steamboat Park in Pierre
BUS SEATS : Bus seats from Sioux Falls or Rapid City be reserved at www.nokxldakota.org
###
The Indigenous Environmental Network is an international environmental justice nonprofit that works with tribal grassroots organizations to build the capacity of Indigenous communities. www.ienearth.org
Dakota Rural Action is a grassroots family agriculture and conservation group that organizes South Dakotans to protect our family farmers and ranchers, natural resources, and unique way of life. www.dakotarural.org