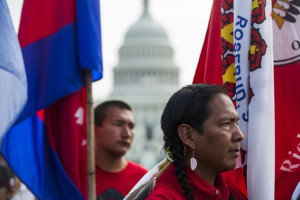 Guest Commentary by Gary Dorr at Native News Online
A funny thing happened on the way to the Fort Laramie Treaty meeting in 1868; the Europeans walked in hoping and asking, and then they walked out with a signed, sealed, and delivered exposition of their rights in the Great Sioux Nation Territory.  Yes the Europeans walked out with rights.  That is correct.  In U.S. v. Winans 198 U.S. 371, 381 (1905) the Court summarily came up with a new rule of treaty construction that a treaty was not a granting of rights to the Indians, but rather a granting of rights from them – and reserved those not granted to the tribes.   So today the Oceti Sakowin Tribes (Great Sioux Nation) are asking for the Keystone XL pipeline to be denied a certification of its outdated permit which has gone beyond the four years it had to begin construction, based on a treaty stipulation, based on faulty consultation promises made, based on the need to protect resources vital to the general health, and wellbeing of the Great Sioux Nation Tribes, and their neighbors.
This is important from a legal, moral, spiritual and ethical view.  The foundations upon which an American can build his reputation stem from among other things, "keeping your word."   There is a long string of broken treaties spread across this land which justify further conversation for another time.
For now, what must be known is that the Treaty Tribes of the Oceti Sakowin (Great Sioux Nation) and specifically the Rosebud Sioux Tribe are all standing up and asking for the Treaty once again to be honored so that the United States can "keep its word" to the People today.  The People today include all the descendants: of treaty signers, of treaty makers.  The Indian Tribes of the Oceti Sakowin are not standing before you today asking to violate any treaty. The Oceti Sakowin are, despite all the broken treaties, standing in unison asking you to honor the treaty rights which were reserved to the tribes and attached to the land. Read more at Native News Online: http://nativenewsonline.net/opinion/keystone-xl-pipeline-now-time-keep-promises-great-sioux-nation/