by Stephanie Hemphill, Minnesota Public Radio
May 11, 2012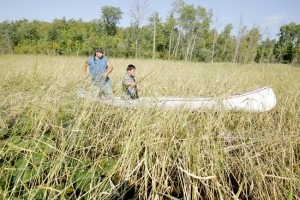 DULUTH, Minn. — A Ramsey Court judge has upheld the state's standard for sulfate in waters that produce wild rice.
The Minnesota Chamber of Commerce challenged the rule, saying it was vague and arbitrarily applied.
The Minnesota Pollution Control Agency's Shannon Lotthammer said the agency is pleased that the court has affirmed the agency's use of the rule.
The MPCA recently gave U.S. Steel eight years to figure out how to reduce its sulfate concentrations.
"We do have a number of facilities that we don't have data for yet, so we don't know how much sulfate is in their discharge," said Lotthammer, who manages the agency's water assessment and environmental information section. "In that case, we're requiring those facilities to collect that data so the next time the permit comes up for reissuance we'll be able to use that information to determine if a limit is needed."
Concentrated sulfates from mines and other industrial operations can damage wild rice beds.
The sulfate concentration in wastewater at U.S. Steel's Minntac plant is about one-thousand parts per million; the state standard is 10 parts per million.
GREAT NEWS — Wild Rice Standard Upheld in Court!
WATERLEGACY PRESS RELEASE
MEDIA CONTACT:
Paula Maccabee (ph: 651-646-8890  c: 651-775-7128)
JUDGE DISMISSES MN CHAMBER OF COMMERCE LAWSUIT
WILD RICE SULFATE STANDARD UPHELD
WaterLegacy, MPCA Motions for Summary Judgment Granted
ST. PAUL, MN, May 11, 2012: Ramsey County District Court Judge Margaret M. Marrinan has denied all claims made by the Minnesota Chamber of Commerce in its lawsuit challenging Minnesota's wild rice sulfate standard. On May 10, the Judge granted motions for summary judgment made by intervenor WaterLegacy and by the Minnesota Pollution Control Agency (MPCA) and upheld Minnesota's rule protecting natural stands of wild rice from sulfate pollution in excess of 10 milligrams per liter.
In her decision, Judge Marrinan ruled, "The Wild Rice Rule does not violate due process. It is not unconstitutionally vague, nor is the application of the rule arbitrary and capricious." The Court noted, "In approving the wild rice standard, the EPA concluded that the standard is consistent with the federal Clean Water Act. Plaintiff's assertion that the wild rice sulfate standard is in any way inconsistent with the Clean Water Act lacks merit." Judge Marrinan ruled that the Minnesota Chamber of Commerce Complaint should be dismissed "in its entirety with prejudice and on the merits." (See Judge Marrinan's Decision)
"We are pleased with Judge Marrinan's clear ruling upholding the wild rice sulfate standard," said environmental attorney Paula Maccabee, Counsel for intervenor WaterLegacy.  "Now it's time for the mining industry to comply with water quality standards that protect wild rice, fish and drinking water, rather than trying to strike them down so industry can keep polluting Minnesota streams, lakes and rivers."
The Minnesota Chamber of Commerce filed its lawsuit on December 17, 2010. Motions for summary judgment by WaterLegacy and the MPCA were filed on January 31, 2012 and heard by the Court on March 1, 2012.