Hundreds risked arrest blocking entrances to the White House grounds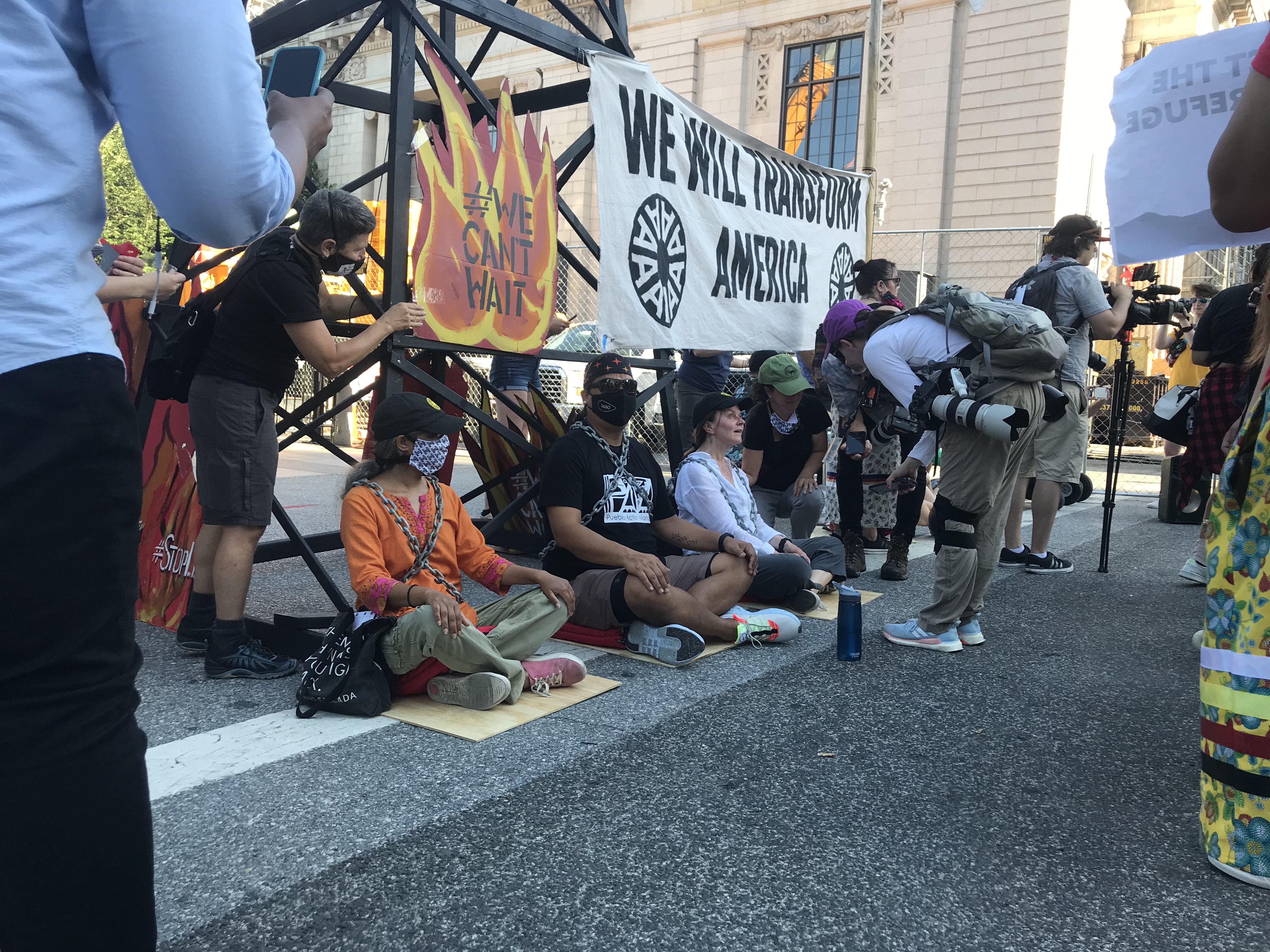 WASHINGTON, D.C. — Hundreds of Indigenous, climate justice, and racial justice advocates rallied in front of the White House, and many peacefully blocked entrances to the building today to demand President Biden immediately stop fossil fuel projects like the Line 3 pipeline and center climate justice in any infrastructure package that moves forward in Congress.
The demonstration was led by the Indigenous Environmental Network and supported by climate, racial, and economic justice groups including Arm in Arm, Center for Biological Diversity, Climate Justice Alliance, Friends of the Earth, Public Citizen, Right to the City, and ShutDownDC.
"As Indigenous peoples on the frontline of the climate crisis, we knew it was only a matter of time before Biden's neoliberal agenda was revealed for what it truly is. The truth is, neoliberalism is a tool to maintain the status quo, to perpetuate white supremacy, and to kick the can of problems down the road. We are here to say that is unacceptable and we will continue to stand for Unci Maka, our communities, and future generations by any means necessary," said Ashley (McCray) Engle, Absentee Shawnee Tribe Of Oklahoma/Oglala Lakota Nation, Indigenous Environmental Network Green New Deal Organizer.
Hundreds of people took part in the sit-ins that shut down six White House entrances for multiple hours on Wednesday morning, while many more rallied in support. As of 12pm ET, two people had been detained and released. It was the second major climate protest at the White House this week.
Participants in Wednesday's demonstration included advocates who had come from as far away as Alaska, Minnesota, and Louisiana to testify about the damage being done to their communities by the fossil fuel industry and climate emergency.
"Biden promised climate justice, yet again BIPOC communities are being sacrificed for the U.S. energy dominance. Our villages are washing away into the ocean, our children are developing rare cancers, and birds are falling from our sky dead," said Siqiniq Maupin, Co-Founder & Director, Sovereign Iñupiat for a Living Arctic. "This is genocide, and we will fight back. We will be heard. Biden will be called forward to be on the right side of history, to take action now before more humans die in the name of oil and corruption."
"The Mountain Valley Pipeline is going through a lot of sacred places. They are taking people's land. The federal government is supposed to protect people and sacred spaces, but they're not doing their job. President Biden campaigned on the environment and protecting people. Letting all these pipelines like Line 3, DAPL, and MVP come through: that's not helping the public, that's not helping the people he campaigned for," said Crystal Cavalier-Keck, a member of the Occoneechee Band of the Saponi Nation and leader in the fight against the Mountain Valley Pipeline in North Carolina. "If we can stop these pipelines, stop our dependence on oil and gas, and change to cleaner types of energy that are sustainable, it will protect the future. We're trying to do this for the next seven generations. We can't unite people if pipelines are killing our children. It's not a sustainable way to live."
The group included water protectors who are opposing the Line 3 pipeline in Minnesota, which has become a major controversy for the Biden Administration. Last Thursday, Biden's Justice Department continued to defend the project in court despite the administration's pledge to support Indigenous rights and climate justice.
"As Indigenous Women we face higher statistics of sexual violence than any other demographic. The ongoing epidemic of Missing and Murdered Indigenous Women is exacerbated by these corporations," said Taysha Martineau, a water protector of the Fond du Lac tribe who is opposing the Line 3 pipeline. "As a mother of four children, three of whom are female, it is my family that faces those statistics. If the Biden Administration allows this corporation to build this unnecessary and harmful project, not only are they violating treaty rights, they are placing the lives of Indigenous children at risk. One in three Indigenous women go missing or are murdered, raped or sexually assaulted before the age of 15. I ask the Biden Administration to take a look at my children, and answer a question I have to ask myself every single day, 'Which one?'"
With temperatures topping 90 degrees, part of a brutal, climate change-fueled heatwave gripping much of the country, demonstrators carried a 100-ft black pipeline, giant cut-outs of an oil derrick and a wind turbine, and hundreds of recycled cardboard cutouts designed to look like burning flames, a symbol of the literal wildfires burning across the West, as well as the fierce urgency of the present moment.
"We are out here because our communities are suffering from the climate crisis and the extractive economy. It is an act of desperation, but also an act of hope that brings us out in the heat again and again to demand President Biden Stop Line 3, and prioritize an infrastructure package that secures climate justice, Indigenous rights, transit justice, housing justice, and racial justice," said Keya Chatterjee, a coordinator of Arm in Arm, a national mobilization for climate justice.
"We're fighting to push the issue of climate justice," said LaDon Love, the Executive Director of SPACEs In Action, a multi-ethnic membership based community organization in Washington, D.C. "When communities are under attack and we see pipelines being built and eminent domain being used to remove people from their lands, we're not taking care of the people who are voting, we're not taking care of the communities that matter. We're making a choice to put profit over people. We need to make sure we're unifying our fights. We need to stand together to make sure that we have one united voice saying that we have to take care of the lands on which we stand because if not we will all die."
The demonstrators at the White House, supported by hundreds of organizations around the country, are demanding that President Biden stop weakening his climate plans to please Republicans and instead use his executive authority to stop all new fossil fuel projects and "build back fossil free." They also want to see the President use his bully pulpit to make sure Congress includes strong climate, Indigenous rights, housing justice, racial justice, and transit justice commitments in any infrastructure bill.
"To be the climate president we need, President Biden can use his executive authority today to stop approving fossil fuel projects and declare a national climate emergency," said Kassie Siegel, director of the Center for Biological Diversity's Climate Law Institute. "With the stroke of a pen, Biden can take key actions to end the fossil fuel era and jumpstart a 100% renewable and just energy future. We're starting to suffer a climate meltdown, and Biden has to seize the moment to build back fossil free."