Media Advisory
20 June 2012
Indigenous Peoples Set to Deliver Kari-Oca II Declaration to Rio+20 Leaders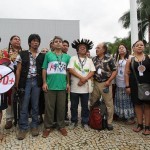 Indigenous Peoples will march to the United Nations Rio+20 Summit tomorrow to deliver the historic Kari-Oca II Declaration to the Rio+20 Secretary-General, Sha Zukang.
Ratified by over five hundred Indigenous Peoples from Brazil and throughout the world, the Kari-Oca II declaration demands respect for Indigenous Peoples' rights and the dignity of Mother Earth and condemns the Green Economy as the privatization of Life.
The declaration is available in English, Spanish, and Portuguese here: http://bit.ly/MD9UAR
DAY: THURSDAY, JUNE 21, 2012
TIME: 11:30AM – 12:15
PLACE:  RIO CENTRO, Flagpole Area between Pavilion 3 and 5

PHOTOS AND VISUALS: Indigenous Peoples will be in ceremonial regalia.