FOR IMMEDIATE RELEASE
September 30, 2015
Contact: Dallas Goldtooth, ienpipeline@igc.org, 708-515-6185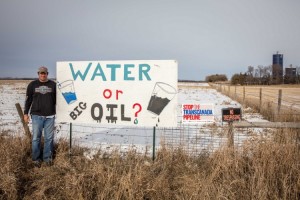 September 30, 2015 – Yesterday, TransCanada announced that it was "revamping" its Nebraska strategy in the effort to build the Keystone XL pipeline by withdrawing an eminent-domain lawsuit against over 100 Nebraska landowners along the project's proposed route. Public opposition, increased legal expenses and the likely loss of a its lawsuit against the Nebraska landowners have forced the company to take drastic measures to keep its dirty tar sands pipeline project afloat. The corporation stated that it will instead file an application for a state permit with the Nebraska Public Service Commission (PSC), a process that can take at least a year.
President Obama has yet to make a decision on the presidential permit for Keystone XL. A permit rejection by Obama will automatically kill the pipeline project, nationally and on a state-level.
"This is a huge victory for the landowners of Nebraska and the fight against Keystone XL," states Dallas Goldtooth, Keystone XL Campaign Organizer of the Indigenous Environmental Network. "This shows that good organizing, amazing lawyers, and dedicated farmers and ranchers have what it takes to win against a multi-billion dollar oil corporation. Much love and respect to our relatives of Nebraska for holding the line, never compromising and standing their ground to protect this sacred land we all share. We continue to demand President Obama to make his decision and allow the communities along the proposed route to finally celebrate."
###