Yesterday Marlon Santi, former president of CONAIE, and Jairo Gualinga, Youth Leader of CONAIE were arrested for participating in a peaceful demonstration in the Amazon against oil subsidies. Long-time IEN member Marlon Santi was documenting the resistance on his phone. Marlon has been an outspoken leader against neoliberal false solutions, such as carbon offsets and REDD programs, as answers to the climate chaos created by a dependence on fossil fuels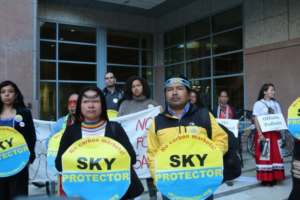 The world is watching as the Sarayaku and Indigenous peoples of Ecuador demand an end to corrupt fuel subsidies. Marlon Santi being detained fighting for the protection of Indigenous rights, forest and lands is unjust. As climate chaos rocks our communities we will not remain silent about the false solutions neo-liberals are proposing. Indigenous Environmental Network stands with our relatives In Ecuador and around the world who are on the right side of history trying to save the world for us all and the generations that follow.
Join us as we demand the release of Marlon Santi and Jairo Gualinga immediately!
Suggested Tweet:  President @Lenin Climate justice must center Indigenous voices not silence them. Leaders of the Indigenous movement in Ecuador should not be censored, persecuted and threatened for participating in peaceful demonstrations to protect the sacred. Release Marlon and Jairo! 
Indigenous Environmental Network will continue to stand with our brothers against carbon offsets and false solutions, our future depends on it.
Tom BK Goldtooth,
Executive Director, Indigenous Environmental Network
To Make A Tax Deductible Donation:
Paypal.me/IENEarth