US, European and other states push for exclusion of binding Indigenous rights from agreement
Indigenous groups from across the world staged a paddle down the Seine river in Paris on Sunday, calling on governments to ensure Indigenous rights are included in the United Nations climate pact currently being negotiated in France.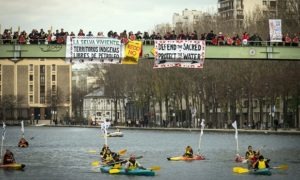 The United States, the EU, Australia and other states have pushed for Indigenous rights to be dropped from the binding parts of the agreement out of fear that it could create legal liabilities. Indigenous representatives from North and South America, Indonesia and Congo played instruments and led others in prayer amid the smell of burning sage after activists completed the paddle, demanding the protection of water and the environment.
Recognition of Indigenous rights initially appeared in the text of the Paris Accord, where it would have been legally binding and enforceable – but under pressure from Norway and other countries, it was moved to a preamble that is only an aspiration and non-binding Reports have shown that ensuring Indigenous communities have secure lands rights can reduce deforestation and prevent billions of tonnes of carbon emissions from being emitted every year.
Indigenous groups have been lobbying since the Bali climate change conference in 2007 to ensure that any UN climate projects respect and recognize the rights of Indigenous peoples. Albert Saldamando, an international human rights lawyer, said that Indigenous peoples are concerned they will be at risk of further displacement from their lands if there isn't concrete recognition of their rights. World Bank-led projects for forest and conservation offsets that are overseen by the United Nations disproportionately impact their territories around the world, he said. "At the moment the rights of Indigenous Peoples all over the globe are being violated by 'green climate projects' – such as hydropower dams – in the name of 'climate mitigation'. If such violations are happening now, imagine what will come with a legally binding document, where the rights of Indigenous Peoples are not guaranteed," said Eriel Deranger, member of the Athabasca Chipewyan First Nation in Canada.
In October in Bonn at a pre-Paris negotiating session, mention of Indigenous rights disappeared but was reinserted after protests by the Philippines. According to Saldamando, small island states have also been good allies, as well as Canada, Mexico and Costa Rica. He said with sufficient pressure, recognition of Indigenous rights could be still be added back in the last week of negotiations.
"We cannot negotiate a climate agreement at this critical time without the recognition of the rights of Indigenous Peoples, who are on the front lines of the impacts of climate change and the innovators of solutions we need to stabilize our climate," said Tom Goldtooth, executive director of the Indigenous Environmental Network. Crystal Lameman,Treaty coordinator for the Beaver Lake Cree First Nation, watched the paddlers come down the Seine on Sunday, after having travelled from her territory in Canada's tar sands region. "We belong in this treaty and we have a place in this discussion. Our future and the future of our children are not up for negotiation."