FOR IMMEDIATE RELEASE: June 14, 2017
Contact:
Jade Begay, jade@ienearth.org, 505-699-4791
Nina Smith, nina@megaphonestrategies.com, 301-717-9006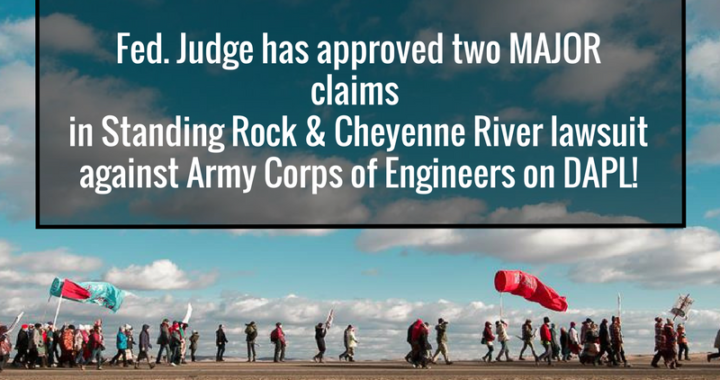 Bemidji, MN — Today, Indigenous peoples and Water Protectors marked a crucial victory in the fight against the Dakota Access Pipeline.
A federal judge ruled that the Army Corps of Engineers failed to complete a proper environmental examination and that the permits issued for the Dakota Access Pipeline were issued in haste. The judge ordered the agency to reconsider parts of their final environmental analysis.
Joye Braun, Cheyenne River Lakota community organizer with the Indigenous Environmental Network, stated:"We've been saying the Environmental Analysis was not in line with the law, and that based on treaty rights, this project should never have been built. We on the ground are excited to hear that this is moving forward. While we wish the flow of oil would be stopped until the hearings are completed, we trust that through prayer and continued vigilance we will stop the flow of oil and make Energy Transfer Partners and this administration keep fossil fuels in the ground."
Dallas Goldtooth, national Keep It In the Ground organizer, Indigenous Environmental Network, added:"This is a huge victory for the tribal nations of the Oceti Sakowin, Water Protectors around the world and for the Indigenous leaders who led organizing efforts to stop the Dakota Access Pipeline.
We're ecstatic with the court's decision, and applaud the Standing Rock Sioux Tribe and Cheyenne Sioux for continuing to hold the line and take the fight against the Trump administration and the Dakota Access Pipeline to the nation's courts. We hope this decision leads to the stoppage of oil flowing in the bakken crude oil pipeline as a permanent remedy to protecting the drinking water of the Cheyenne River and Standing Rock Sioux Nations.
Since the 1990s, our organization has been working to ensure the United States recognizes the need for environmental justice and for meaningful participation by Indigenous communities in permitting processes that will affect our sacred lands, inherent rights and access to clean water. We're seeing those efforts bear fruit, and now our movement has dealt a major blow to big oil.
Despite underhanded, brutal tactics by Energy Transfer Partners to suppress Indigenous peoples, our movement will not be stopped. We will continue to support any and all efforts to divest from fossil fuels and stop the Dakota Access Pipeline once and for all."
###