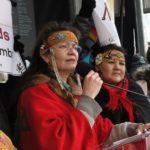 Watch the rally and march below.
Members of Indigenous Environmental Network (IEN) took the lead of the Forward on Climate march of 35,000 people in DC on Feb 17 protesting the Keystone XL tar sands pipeline, limits on carbon pollution and investment in renewable energies. While they were in DC, five indigenous & First Nation women of the Women's Earth Climate Caucus delivered a letter to the Environmental Protection Agency (EPA) from IEN, Climate Justice Alignment and others calling for stronger action on climate change. While Obama's SOTU mention of climate change was encouraging, his fast-track construction of the southern part of the pipeline is already having devastating impacts on communities, and we must push to ensure he doesn't fast-track the rest of the pipeline. Read Full Letter to the EPA
Protecting Mother Earth: Forward on Climate Rally:
Despite the cold windy day today, more than 35,000 people came out for the Forward on Climate rally on the national mall to support action being taken on climate change. Groups representing every walk of life showed their solidarity in a peaceful friendly environment. Chants, dancing and bands abounded. Signs calling for a denial of the proposed Keystone XL tar sands pipeline, limits on carbon pollution from power plants, and investment in renewable energies could be seen everywhere you looked. But although the atmosphere was jovial, the issues we are fighting for are not. Reverend Lennox Yearwood of the Hip Hop Caucus said it best when he compared this rally to the one attended by Martin Luther King Jr. 50 years ago; people came out to the mall then to fight for equality, but we are here now fighting for existence.