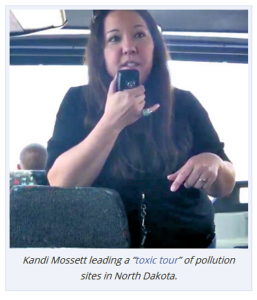 New Town, N.D. – This weekend, the Indigenous Environmental Network (IEN), Protectors of Water and Earth Rights (P.O.W.E.R.), grassroots activists and clergy from the Gulf Coast led a "toxic tour," the Third Annual Healing Walk, and an educational seminar for community members in the heart of the Bakken Oil Formation.
The two-day series of events aimed to increase awareness about the environmental impacts of pipeline toxins and pollution in local water resources. Participants say this information is critical for communities along the pipeline routes because the Bakken oil and gas field resources the Dakota Access and Bayou Bridge Pipelines and also leaks 275,000 tons of methane per year.
"We have been dealing with oil and gas extraction around us for nearly 10 years," said Lisa DeVille, President of POWER. "We cannot survive without healthy water so we gather annually to pray for the health of our water as our grandmothers and grandfathers used to. We know that with extraction, it's only a matter of time before our only drinking source will be unsafe to drink."
"We can individually deal with the symptoms of the problems created by the oil and gas industry or we can work in solidarity and go straight to the source; for all of us that's the extraction zone of the bakken shale oil fields," says Kandi Mossett – Mandan, Hidatsa, Arikara from New Town, ND. "We hope to show a larger spectrum of people who can work towards a Just Transition from the fossil fuel industry while still creating economic development through things like hemp and food production, small scale wind and solar production and grassroots community work that leads us towards true sovereignty."
The toxic tour and the healing walk also follows several pipeline developments this week with Dakota Access Pipeline (DAPL), the Bayou Bridge and the Keystone XL Pipeline. In Nebraska, hearings began to determine whether TransCanada should receive permits to build the pipeline across the state. In Louisiana, where the Bayou Bridge is the last leg of DAPL, votes were delayed on alternative community evacuation routes currently blocked by the Energy Transfer Partners, the company that built DAPL. Finally, the North Dakota Public Service Commission (NDPSC) announced that it will take legal action against DAPL for probable company violations during the pipeline's construction.
"I'm grateful that our communities are connected now. We are fighting the same fight: to keep oil in the ground and to stop projects like Bayou Bridge Pipeline that put all we have a risk. It's about letting other people see we're fighting for what is right. It's got to stop somewhere and what's better than stopping it at the source." Pastor Harry Joseph of Mount Triumph Baptist Church in St. James, Louisiana, traveled to North Dakota to help connect the struggles between Indigenous families and Black and Brown communities along pipeline routes.
"It is important that we have come here to witness the harms created in the name of profit for some, at the expense of the lives of many. Again we see a continuation of the devastating effects caused by the colonization of bodies and earth. And again, we find everyday people standing up against overwhelming odds, to protect themselves and future generations," expressed Cherri Foytlin – BOLD Louisiana. "I am humbled by those efforts, and I am glad to be here to witness and be strengthened by it all. Our time here will embolden us to return with renewed vigor to protect not only our people, lands and waters, but that of those who are here as well."
Jaron Browne of Grassroots Global Justice Alliance expressed "It's powerful to be here at the source of the extraction of the oil that is tied to the contamination of so many other communities around the country. We have people here from Louisiana to Rhode Island tying a strong web of solidarity across all frontline communities in our collective movement to build a Just Transition to a living economy."