Skip to content

Harper said sorry for residential schools…yeah, we remember that sound bite!

Harper is not the first white man to try to placate Indigenous Peoples with pretty or well meaning words, while also trying to steal our land and our resources, destroy our cultures and our traditional food systems.

From the tar sands in Alberta, to mining in northern Ontario to deforestation in Quebec, this colonial government has continually trampled our aboriginal rights as it pursues a capitalist free market economic agenda that continues to move Canada into a resource colony of the US and China, leading to the privatization of Canada's rich natural resources with a global economic framework that doesn't care about environmental protection – nor the rights of First Nations, nor human rights or rights of Mother Earth.

But, we're here to tell Harper something. IdleNoMore isn't going to let that happen. I don't know about all of you but where I come from, our land, our resources, our way of life are not for sale…

Out in BC an amazing grassroots alliance of first nations, environmentalists and workers are stopping Harper's tar sands expansion in its tracks.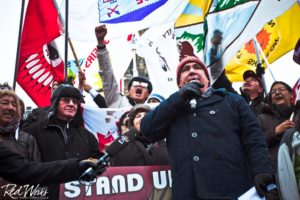 In the heart of the tar sands in Alberta, First Nations like Athabasca Chipewyan First Nations and Beaver Lake Cree Nation are taking the puppet Harper and his puppet master oil companies like BP and Shell to court. Just today Mikisew Cree Nation announced they will lead the legal challenge to bill C-45!
Here in Ontario, communities like Attawapiskat, who's chief Theresa Spence is ready to give her life for her people, have embarrassed Stephen Harper.
In Quebec, communities like the Algonquians of Barrier Lake, who are here today, as we gather on unceded Algonquin land, have been a thorn in the Harper government's side, refusing to be beaten down or assimilated
Even the Mayans in Guatemala are resisting Harper's policies and fighting for their lives against Canadian mining companies hudbay and Goldcorp.
The Mayan people stand with our First Nations demanding Canada implement a new policy with our First Nations based upon the standards of Free, Prior and Informed Consent! This goes beyond consultation and reserves the right for our people to say NO!
Whenever First Nations challenge Canadian policies, they cut funding. Stephen Harper is mad at our Native resistance demanding to be heard. So he is taking it out on us. Slashing funding to every native advocacy group, starting with Sisters in Spirit, and now affecting almost every Native advocacy group across Canada.
He is passing laws, which aim to put in place the white paper agenda we, defeated back in 1969, an agenda of assimilation that is openly advocated by his mentor Tom Flanagan
He wants to privatize our reserve lands so they will end up alienated and in the hands of greedy corporate people who lust for it.
Stephen Harper may be angry. Stephen Harper may be smart. But there's one thing he doesn't understand. We're not going to give up, ever. We have survived over 250 of these colonial policies and we are going to still be here another 250 years.
But we also need to understand that today NO ONE can win it alone. The agenda of governments such as Canada and other industrialized countries and corporations is to privatize nature, under both the old business as usual and the new emerging green economy agenda. Eventually every Canadian is and will be affected by what we are seeing happening today. We need to work together for a different future based on mutual respect, coexistence, with each other, and with the other.
We will work with social movements, like the Quebec student movement, and the climate justice movement, the Labor Movement and especially the Sisters in Spirit Movement! We will build power for the establishment of the biggest social movement in the history of Canada – breaking down colonial barriers that divide the common people of Canada, it will be deeply rooted in a unbreakable foundation of anti racism, anti oppression and anti colonialism. Let today send our voices in solidarity to the world that Harper represents, a system of oppression against not only our First Nations indigenous peoples, but all people and against Mother Earth. United we will win a more beautiful world for our children and future generations…This is Prophecy…you are prophecy…We will never stop, not for one second…Mr. Harper you better be ready
Ekosi Maha, Ki Na Na SkoMitin
Idle No More Rally Parliament Hill Ottawa, ON Dec. 21, 2012 All images: (c) Nadya Kwandibens/ Red Works Studio