MONDAY, JANUARY 23, 2017
FLORIDA STATE CAPITOL BUILDING
400 South Monroe Street, Apalachee Parkway, Tallahassee, FL 32399
TWELVE NOON
HOLD REGULATORY AGENCIES ACCOUNTABLE FOR THE DEVASTATION OF OUR WETLANDS, WATERBODIES, SPRINGS, CAVES, AND ENVIRONMENTALLY SENSITIVE LANDS.
SHUT DOWN CONSTRUCTION OF SABAL TRAIL AND FLORIDA SOUTHEAST CONNECTION FRACKED GAS UNDERGROUND PIPELINE PROJECTS.
Rights of Nature: 
"Ecosystems have and are entitled to their rights just as human beings have.  Nature in all its life forms has the right to exist, persist, maintain, and regenerate its vital cycles."
When regulatory agencies fail to properly exercise their legal obligations it jeopardizes public health and safety, our natural environment, waters, air, and wildlife.
The Federal Energy Regulatory Commission (FERC), US Army Corps of Engineers (USACOE), Florida Department of Environment Protection(FDEP) and Water Management Districts approval of the Southeast Market Pipeline Project (Sabal Trail and Florida Southeast Connection Pipelines) represents a failure of regulatory agencies to properly review and monitor a 515.5 mile fracked gas underground pipeline crossing under, over and through some of Florida's most unique and environmentally sensitive natural areas, critical wildlife habitat and waters.
FERC, USACOE, FDEP, issued certificates and permits based on a flawed final Environmental Impact Statement, putting our waters, sensitive landscapes, hydrological features and the health and safety of Florida residents at risk, with the potential of devastating consequences to the Floridan aquifer, the Suwannee, Withlacoochee, Santa Fe, and Kissimmee Rivers, creeks, and ponds, and Florida's worldwide treasured Springs and Caves.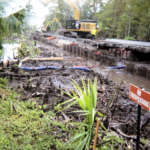 From the onset of this massive pipeline project numerous violations of the FDEP permit by the pipeline companies have occurred along the pipelines routes and were reported to the regulatory agencies without so much as a fine being imposed on Sabal Trail or Florida Southeast Connection fracked gas underground pipelines. Hundreds of our precious wetlands have been dewatered, and all vegetation removed to accommodate a pipeline easement, 100 feet wide, through Alabama, George and Florida.  Our Florida Waterbodies now have underground pipelines beneath them, and forested waterbodies, that were dry cut or wet cut crossed, no longer have any vegetation or trees as they once did – changed forever.  Any leak or explosion anywhere along the route will have devastating results and possibly catastrophic results to our Floridan Aquifer, waterbodies, springs and caves.
There will be speakers, and we encourage people to bring signs. Anyone who has been monitoring violations, please bring your list to read, and enlarged photographs if possible.  People need to understand the horrific consequences of this project, including the taking of lands, by private profit making, fracked gas companies, from private landowners, state parks, preserves and water management conservation easement lands.
We, the people find FERC, USACOE, FDEP, Water Management Districts guilty of Crimes Against Nature threating the Future of All Life, and Must be Held Accountable.
Contact:  Shannon Larsen Ancientrees@hotmail.com 904-654-0200
Bobby C. Billie, one of the Clan Leaders and Spiritual Leader, Council of the Original Miccosukee Simanolee Nation Aboriginal Peoples says:
"We can survive without the money and Sabal Trail Pipeline, but we cannot survive without clean air, clean water, and Nature."

"Our People have a prophesy about this (pipelines).  The prophesy tells us this is one of the last things.  They are going to destroy the Water, they are going to destroy the Air, and the Environment, and the human life.  That is why we do not want to see Sabal Trail Pipeline happen."
 We must stand together for the Future of All Life, not just the human life, but the air, the water, the land, the animals, the birds, the fish, the reptiles, the insects, and all the others.
ALL LIFE DEPENDS ON YOU – PLEASE COME!
Organizers:
Bobby C. Billie, Council of the Original Miccosukee Simanolee Nation
 Aboriginal Peoples
Shannon Larsen, Ancient Trees
Ancientrees@hotmail.com  904-654-0200