We need to support our own communities during catastrophic disasters. We aren't many people in Western Alaska, Kotlik appeared to be the major impact zone, but we are still people who deserve support and relief effort. I think of Hurricane support that mobilizes for many counties. When people are without water – limited water sells for $6.75/ gallon, and there is sewage contamination outside our doors and in our yards, and vehicles to gather food and ice water are immobilized, the situation intensifies. Families are displaced and the community needs immediate attention. Although this isn't an urban area or because it hasn't happened to thousands of people, it still deserves our voice and support. With the winter freeze about to set in, the conditions will only continue to escalate. Please share our story from Kotlik, Alaska.
DONATION UPDATE, KOTLIK FLOOD RELIEF FUND: Please TAG & SHARE. Kelly McGuirk from the American Red Cross Alaska is working with the state disaster group and ERA Aviation to 1) take orders on what is needed in Kotlik immediately, 2) organize needed and available supplies to be sent up immediately. If you are able to financially donate for the disaster relief supplies, you may do so right now at the link below. Make donations in the honor of "KOTLIK FLOOD RELIEF FUND (or affected village of choice)". Kelly McGuirk can be reached at  
(907) 646-5423  or kelley.mcguirk@redcross.org
A heavy storm overnight (Nov. 10) flooded the coasts of Western Alaska and wreaked havoc in several communities.
In Kotlik, located on the Yukon River Delta, the storm flooded the Kotlik slough, causing severe damage when ice chunks were shoved up the banks.
State officials say Kotlik has reported damage to its sewage and water facilities and to five homes.
Jacqueline Gosch, a Kotlik resident, says the ice also pushed dry-docked boats onto higher land, and the village's boardwalk was completely washed away and redistributed in other parts of town.
South of Kotlik in Tununak, rough waves washed away the road near an essential bridge that leads to the village's airport and garbage dump.
"So far, we've been having storms this year, but so far, this one I've seen is the highest one for the year," said Peter Angaiak, Tununak Resident.
In Unalakleet, high waters swamped the town, as well. Boats that had been dry-docked for the season were seen floating in the storm's floodwaters.
Similar scenes were found nearby in Golovin, where public works employees stayed up all night, piling sands into berms to keep the rough seas out of town and away from homes.
"It would have been a lot more houses, probably would have been wet if we didn't stockpile that sand down there," said Peter Olson, Golovin Public Works. "In the past, floors have been damaged, foundations have been wet, insulation and such. Like I said, if we didn't stockpile the sand, hold it back, it would have got a lot more house."
The State Emergency Operation Center has recalled staff to monitor the storm. Workers have received reports of minor damage between Scammon Bay and Unalakleet. There have been no reports of injuries or missing people.
"Yeah we're really fortunate, it could've been a lot worse," said Olson. "We're really thankful for all the people that stepped up and stayed up to make sure that everybody that needed to get evacuated, did that needed to."
(Copyright © 2013, KTUU-TV)
Kotlik Alaska Flood Damage November 10, 2013
Published on Nov 10, 2013
Some brief footage I took of the flood on November 10, 2013. Ice shoved up over the river bank, boats washed up on shore that crushed utility lines, pools of frozen flood water, the school's basketball court drifted 100 yards away, more damaged utility lines, etc.
Western Alaska flooding: Utilities, homes damaged in several communities
November 11, 2013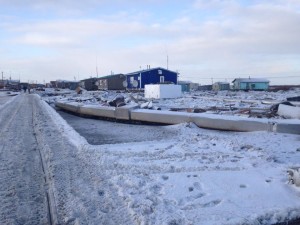 Sudden flooding and severe ice jams in the village of Kotlik — a coastal Yukon River Delta town of about 630 people south of Norton Sound — damaged sewage systems, closed the community's school, displaced families and cut off the community's access to any running water over the weekend. And the village is bracing for another wave of nasty winter weather expected to bring more flooding.
Other communities in the region, from Scammon Bay to Unalakleet, also suffered damage as a result of severe weather that accompanied a Bering Sea storm sweeping through the area late last week.
"The town was actually a part of the ocean," Kotlik Mayor Thomas Sinka said Monday. "I mean everything was underwater, and our rescue teams were trying to get to all of these people, but the flooding happened so fast we just couldn't."
He added that sea ice was pushed into the town and surrounding rivers, making it more challenging to perform search and rescue operations.
Sinka said the water from Pastol Bay came rushing into the Yup'ik village on Saturday. He said more than 100 people, families and their pets headed to the local school for shelter.
Although the worst seems to be over, Sinka said, it has left the town with immense damage.
He said the townspeople are just now able to survey the damage, but the list of needed repairs is already long. Damage at the fueling station caused diesel to spill into the village, he said. Sewage pipes floated away and the sewage water was in the streets. The playground equipment at the school was taken away with the current, and the school had no heat or running water. People have lost their homes. And multiple people posted on the Kotlik Facebook page claiming that much of the Alaska Native subsistence food that was hunted and gathered over the summer has been destroyed.
Alaska Department of Homeland Security spokesman Jeremy Zidek confirmed that the community's water system had been knocked out and the water plant damaged.
"They have about 2 weeks of water within their water tanks," Zidek said. "It can't be distributed (by the system), but they can haul it." He added that Kotlik would have to resort to using honeybuckets for their sewage needs, at least for the time being.
No Homeland Security officials were on scene Monday, but the agency was monitoring the still-developing situation. Sinka said Monday evening that the community had been talking with a number of state and federal agencies, including FEMA.
Bethel residents have been trickling to the town to help out, said Sinka, but fixing a majority of the damage will be challenging because of the ice jams that built up throughout the community. The village of Kotlik will meet Monday afternoon to further discuss the amount of damage.
Sinka said the two things they need most right now is fresh water, and honey buckets to help while the sewage system remains offline.
"It is just heartbreaking to see this happening," said Sinka. "But we are lucky no one was hurt."
Meanwhile, other communities have also seen damage from the storm. Zidek said that coastal erosion had been reported in Golovin and Shaktoolik. Unalakleet, meanwhile, was in much the same state as Kotlik, with the main water line offline, and about two weeks of water available in that coastal community of about 700.
Despite the damage, the communities had mostly weathered the flooding relatively well, Zidek said.
The power is on, and we've been in communication with (the affected communities)," Zidek said. "We haven't had any critical requests for life safety needs, medical emergencies, communications, or power at this time."
Planning ahead
But more storms appear to be on the way. The National Weather Service reported Monday that rough weather was expected to continue for much of the week.
"A series of storms developing over the Bering and Chukchi Seas will sweep across Northern Alaska Tuesday night through Thursday. Although there is some uncertainty in the forecast details … another round of stormy weather is likely across much of Western Alaska," the NWS wrote.
The storm systems were expected to bring high winds that could cause more coastal flooding, the agency reported.
Sinka reported Monday evening that the community had been able to clear its runway and a boardwalk, enabling people to move around in the ice-clogged village. He said they were focused on getting some people who live across the river from Kotlik onto the other side and into the main community, where they might be better able to ride out the upcoming bout of bad weather.
Kotlik held a town meeting on Monday, and some people were surprised to find out that there could be more flooding on the way. Sinka said that some people only had VHF radio and hadn't heard about the new storm systems headed toward Western Alaska. He said that the recent flooding will hopefully make the community better prepared for such an event in the future. A new warning system was discussed at Monday's meeting.
"We talked about a siren for the whole community, like if there's a storm warning, there'd be a siren we could set off," Sinka said.
Such a plan is for the future. For now, the community will likely have to hunker down as best it can until the next storm passes — and then begin to rebuild.
Storm leaves trail of damage in western Alaska coastal villages
By ZAZ HOLLANDER and DEVIN KELLY
Anchorage Daily News – November 11, 2013
A storm that battered western Alaska over the weekend destroyed water lines in Kotlik and Unalakleet and left a trail of damage along the Bering Sea coast.
Kotlik, a community of about 600 people in the Yukon River Delta, took the brunt of the storm's blow. A rushing surge of seawater and ice destroyed the village's sewer and water distribution lines and damaged at least five homes, state emergency officials said.
The storm also broke a five-mile-long water supply pipe in Unalakleet, officials said. Elsewhere, a Stebbins resident reported flooding around numerous homes as well as damage to a road across from the school. Damage was also reported in other villages, including Shaktoolik and Golovin.
No one was reported injured, said Jeremy Zidek, spokesman for the state's Division of Homeland Security and Emergency Management.
Water and floes of ice began rushing into William Odinzoff's Kotlik home Saturday night. It happened so quickly that the flooding stranded him and six other members of his family. By the time a rescue boat arrived hours later, about 10 inches of water had pooled inside, Odinzoff said.
Odinzoff and his family spent the next two nights at Kotlik School, which served as the village evacuation center. More than 200 people stayed at the school Sunday night, said Principal David Harris.
Most left on Monday, but some elderly villagers remained, in classrooms where beds had been fashioned out of velcro pads ripped from gym walls, Harris said. The school has been shut down until at least Wednesday.
The floodwaters shifted the school's outdoor concrete basketball court 500 yards — it now sits intact behind the village post office.
Recovery efforts focused on clearing large ice chunks from the village's main boardwalk, which is also the main transportation corridor to the local airstrip. Initial damage estimates were between $500,000 to a million dollars, said the village mayor, Thomas Sinka.
Kotlik's piped vacuum sewer and circulating water utility corridor — known in village Alaska as the utilidor — were both badly damaged by the storm. The flood surge pushed back the utilidor, breaking it in half up against the boardwalk, and also tore water and sewer lines from individual homes, said Jimmy Okitkun, pastor at the Kotlik Assembly of God church.
Meanwhile, officials said Kotlik's fresh water supply is expected to run out in five days. For now, people in the village will use honeybuckets, the five-gallon pails used for toilets and dumped at community disposal sites — a sanitary and health risk that's the reason communities like Kotlik switched to a community sewer system.
A state emergency division spokesman said the Yukon-Kuskokwim Health Corp. is sending someone to Kotlik with a water purification device the community can use while the water plant is down. Village leaders are also attempting to organize bottled water donations.
Odinzoff, who came to Kotlik in 1969, said the damage is the worst he's ever seen. Mud now cakes the floor of his house, where his family returned Monday to try to clean up the debris. He also lost a freezer full of food.
With the National Weather Service predicting a second storm moving in, Odinzoff was preparing Monday evening to return his family to the school evacuation center.
"We're getting all our blankets and sleeping bags ready, getting ready for the next emergency," he said.
He added: "We'll be coming back to a broken home."
Kotlik is located in the Yukon River Delta on the east bank of the Kotlik Slough, 165 miles northwest of Bethel and 460 miles from Anchorage. State officials said the storm affected communities up and down the coast, but the heaviest damage centered on a 200-mile stretch between Scammon Bay and Unalakleet.
Up the coast, in Unalakleet, city officials were working Monday on a temporary repair to a coast-hugging pipe that carries raw water to the community for treatment, according to City Manager Scott Dickens.
The storm generated a 12- to 14-foot surge that destroyed several hundred feet of the pipe and a section of nearby road in an erosion-prone area, Dickens said.
The city hopes to replace the broken section of pipe with a permanent, buried section though the pending storm could complicate that work.
"The next storm coming doesn't sound like it's going to be as bad," Dickens said. "From the west, it fights the current so we don't get a big surge like we do with the southerlies, they follow the current."
The storm also temporarily closed the airport runways in Unalakleet, according to Donna Erickson, station manager at Bering Air.
Erickson's garage filled with two to three feet of water. Her family shut off their power for a day. The seawater inundated their camping supplies and "all my husband's power tools," she said. "He's trying to save some. He's really trying to get the saltwater out. He lost a lot of stuff in the garage. Everything was floating."
In Stebbins, flooding moved homes around and damaged outbuildings including smoke houses, according to Charlotte Coffey, a cashier at the Stebbins Native Store. Some Internet connections were down.
Numerous other villages reported at least minor damage, state emergency officials said.
Some communities also got hit with heavy snow. A trooper in Kotzebue said winter conditions Monday morning meant they couldn't get out to survey potential damage.
Unseasonably warm fall temperatures have left the coast without the armor of solid sea ice that protects it from storms, a scenario that also occurred in with the "epic" November 2011 storm that hammered comunities from Point Lay to Newtok, Zidek said.
It was 37 degrees in Unalakleet just a few days ago, Dickens said.
"The ocean never froze up," he said. "if it's frozen or slushy, that helps a lot."
Reach Zaz Hollander at zhollander@adn.com and Devin Kelly at dkelly@adn.com
Source: http://www.adn.com/2013/11/11/3170205/storm-batters-western-alaska-causes.html#storylink=cpy