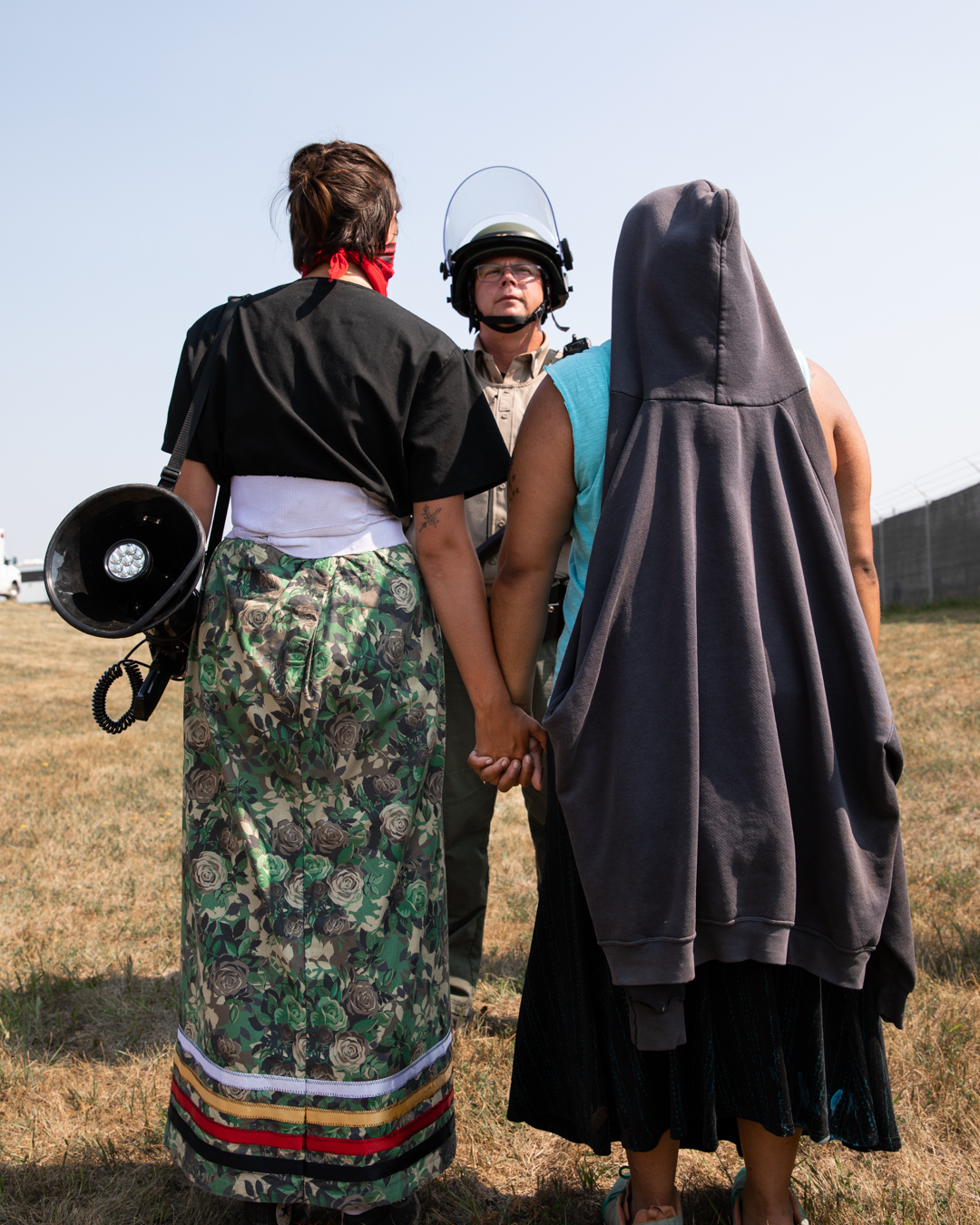 PHOTOS OF ARRESTS: RLTC July 23. 2021
Photos by Chris Trinh with Indigenous Environmental Network
HAPPENING NOW: Arrest Count Rises to 20+ As Police Shut Down Only Road Leading Out of Red Lake Treaty Camp
Pennington County Sheriff, Highway Patrol and More Arrest 20+ Water Protectors as Minnesota State Patrol Orders Shutdown of Highway 32
(Minnesota) — Today, at the Red Lake Treaty Camp, police have arrested more than 20 Water Protectors as they peacefully protest the Enbridge Line 3 pipeline. The arrests have been carried out by multiple agencies including the Pennington County Sheriff, Minnesota Highway Patrol, and Minnesota Department of Natural Resources, according to sources on the ground.
Arrests follow the Minnesota State Patrol's orders that the Minnesota Department of Transportation close Highway 32 between Pennington County Road 7 and Country Road 3, beginning at 11:00 a.m today, July 23.
These arrests come as EarthRights and the Center for Protest Law and Litigation filed a motion for a Temporary Restraining Order (TRO) against the Hubbard County police and Sheriff Aukes to cease blockade of Namewag camp and end illegal citations and arrest threats that was granted today.
Arrests began during the camp's sunrise ceremony that was being conducted on 1863 treaty territory this morning. Sasha Beaulieu of The Red Lake Tribal Council and the Band's Tribal Cultural Resource Monitor with respect to the Line 3 pipeline construction project said that several of the Indigenous leaders of the ceremony were let go, but one White Earth Nation woman was wrested to the ground before being arrested: "They told us outright we had permission to be here and the right to the ceremony. But as they're telling us this, Enbridge workers are driving through the road to get in the gate… We asked why they are able to drive their personal vehicles here and the police said it was because they have a permit, but they just told us we did too! Why do we not have the right to travel within 1863 treaty territory? They cannot block our way in or out of a ceremony. These are treaty violations."
*This is an ongoing story.
###