by Rob Capriccioso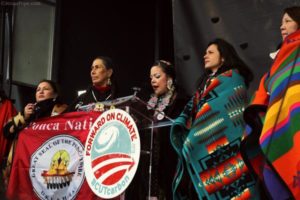 American Indian citizens are ramping up efforts to inform various federal agencies about the potential harmful effects on tribal communities if the proposed Keystone XL Pipeline is granted permission to run through large portions of Indian country.
At least 100 grassroots tribal citizens participated in a thousands-strong February 17 rally in Washington, D.C., as they had at a similar White House peaceful protest in fall 2011. Their message was consistent: The federal government has done a poor job of consulting with tribes about the possible health and cultural impacts of the pipeline if it were allowed to carry oil through their homelands. Many of them fervently believe that such development could adversely affect health, have cultural ramifications and destroy sacred sites.
New messages were shared as well, said Kandi Mosset, an organizer with the Indigenous Environmental Network (IEN) and a citizen of the Mandan, Hidatsa and Arikara Nations on the Fort Berthold Reservation in North Dakota.
"This protest was meant to show that our concerns have not faded—they have grown stronger," she said, noting that with a new Secretary of State, John Kerry, there is also new opportunity to educate him and his staff on tribal positions. "This is a moment for John Kerry and the Obama administration to truly put their words into action in the protection of our Earth now and for future generations."
Richard Ray Whitman, a citizen of the Yuchi/Muskogee Creek Tribes, said many Indians want to show their support for Canadian First Nations people who have already been affected by pipeline development on their homelands.
"Our concerns also go far beyond what might happen here," he said in an IEN action alert. "Because of the extraction of the tar sands, we are currently witnessing the devastation of lands considered sacred by indigenous people in Canada. Opposing the Keystone XL Pipeline means standing in solidarity with all our Native brothers and sisters in the Northern U.S. and Canada."
President Barack Obama famously delayed a decision on the pipeline's development in the U.S. in November 2011, but the federal government has continued to study it, and its Canadian developer, TransCanada, has been working hard to find routes that would be acceptable to the U.S. government. The Obama administration has said to expect a decision sometime in 2013; many protesters were expecting to hear news in June. Obama chose to fast-track a southern portion of the pipeline in May 2012, but this is no guarantee that a northern pipeline will be approved. Hence, the protests continue.
On February 19 the Indian outreach expanded beyond the State Department and White House as a coalition of Indians secured a two-hour meeting with officials from the U.S. Environmental Protection Agency (EPA) in an effort to highlight the human rights impacts of the proposed pipeline on indigenous people.
"The meeting was a little disappointing," Mosset said afterward, adding that the EPA officials "tended to deflect responsibility, saying that State is in total charge. They totally passed the buck."
But tribal attendees pointed out to the EPA officials that they have a responsibility to consult on possible environmental and health impacts with State, and the agency's own environmental justice initiatives appear to align with the concerns of Indians who are protesting the pipeline.
"They can be proactive if they want to be," Mosset concluded. "We just have to keep pushing."
In the end, the EPA officials, all from the Office of International and Tribal Affairs, said they most appreciated an anti-pipeline National Congress of American Indians resolution from June 2011 that the tribal attendees shared with them, as well as letters from the IEN explaining Native concerns in detail. The officials also suggested that the Indian coalition meets with Jodi Gillette, White House Senior Advisor on Native American Affairs, to highlight their concerns—a meeting that Mosset said is on the horizon.
At the same time, the anti-pipeline Indians are working overtime to get their messages out over the voices of some tribal leaders who they believe have offered approval of the development with the idea that it will offer tribal economic benefits, but without much forethought regarding long-term consequences.
"It's unfortunate that we have to take on that fight, too," Mosset said. "But we are ready, willing and able."
Article Source: http://indiancountrytodaymedianetwork.com/2013/03/01/grassroots-natives-meet-epa-highlight-keystone-xl-concerns-147938